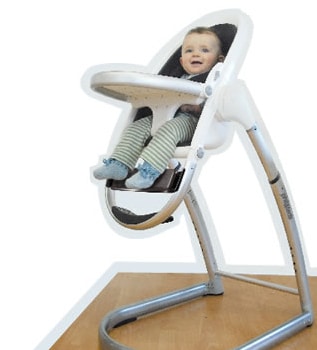 The highpod is phil & ted's first full size highchair. When looking for a highchair most parents want one that will keep their child secure, comfortable and is relatively stylish.
This modern addition is both practical and sharp looking. Designed for children from newborn to age 3 or 33lbs, the highpod's easy-seat adaptability grows with your child.
Out of the box there is very little needed to do to get going. I just connected the two frames together and flipped the seat up and it was ready for lunch!
I love this highchair. Initially, when I put it together, I was concerned that the seat may not be big enough for my healthy 2-year-old. But my concern changed to happiness when my son climbed in and fit perfectly. Not to be outdone, my oldest who is small for his age (5), also climbed in. He also fit perfectly, which was also a bit of a surprise.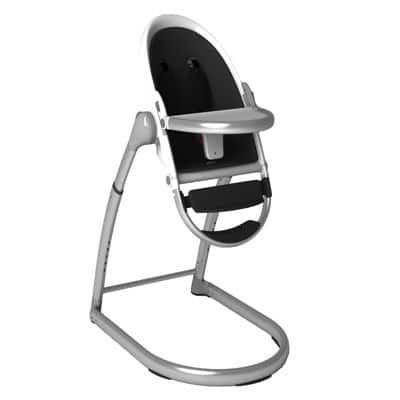 To keep your child comfortable phil & ted's uses a unique aerocore injection moulded seat that is shaped much like an egg. This genius design is perfect for keeping your little one snug and secure at dinnertime. Having my youngest tucked in nicely has prevented him from spinning around and working his way out when my back is turned. It is also great for when your messy little eater get's dirty the whole seat can be easily removed and thrown in the dishwasher or hosed off. I also love that it is a smooth surface that doesn't have any crevices to hide food. This is, by far, my favourite feature of this highchair. Nothing is more frustrating that having to spend 10 minutes after each meal searching for hidden food and should lunch get caked onto the harness it is also easy to remove for cleaning or to adjust as your child gets bigger. It's nice to not have to worry about the fabric fading or tearing because there isn't any!
To prevent meals or snacks from getting too far out of your child's reach, phil & ted's has designed the tray in an oval shape. At just 13.5″w by 10.5″ l, the tray is a bit small, but parents who feel they need something bigger, can add the optional larger tray($30) over your existing one.
The highpod's ability to fully recline makes it perfect to accommodate a sleepy infant. As your child grows, the seat can be adjusted one-handed, to suit their preferences. Because we now like to have my son sit right up to the table without the tray, this has been nice as it is the middle position is the perfect height for our table.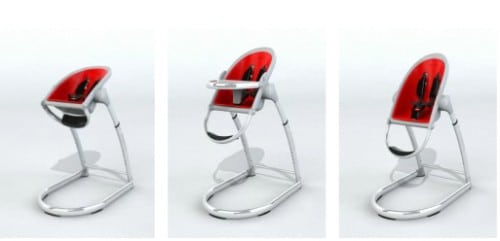 Also included with the seat is a lumbar jack cushion insert for use with small babies. This cushion helps push them forward slightly-closer to the tray, and gives them the assistance they need to get their little legs over the edge of the highchair where they can reach the adjustable highheels foot rest. This is significant because babies that can rest their feet, are able to adjust their weight while seated, keeping them more comfortable, and seated for a longer period of time.
The phil & ted's highpod is perfect for any household. When designing it they really listened to parents and incorporated many great features that make feeding a child easy. It is designed to fit any interior, cleans up quickly and is easy to use. Something sleep deprived parents will appreciate. – Lisa, Editor
* Thank you to phil & ted's for providing us with a sample for review*
---
[ad]