Mutsy's new EVO stroller is a welcome addition to the company's extensive line of gear. Priced at just $399, this full featured stroller is stylish, functional and perfect from birth+.
Assembling the stroller took just few minutes as all I needed to do was pop the wheels on. Once open, the seat locked in place in just seconds and I was ready to stroll.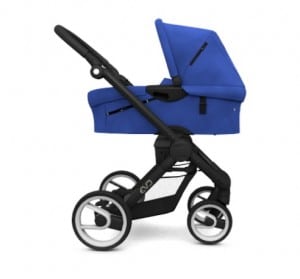 From birth parents can use the EVO with the optional bassinet or with the Graco Snugride and Maxi-Cosi Mico in North America(Safe2go-car seat overseas). The EVO's reversible seat, which is equipped with a 5-point harness, can be adjusted to 3 heights, with the lowest position resting almost flat for a sleeping newborn. The foot rest can be positioned to 3 heights for a growing child and locked straight up to create a bassinet-like environment for little ones.
The stroller we tested came marked as white, but it appeared to be more silver. The fabric is much like a winter jacket with a sheen to give it the silvery look. The fabric is attached to the frame with snaps, but I don't believe it is machine washable.
The seat measures 12.5″ wide, 8″ deep and almost 21″ from bum to the top of the canopy. It comes equipped with a bumper bar and two tethers(one on each side) to attach toys to.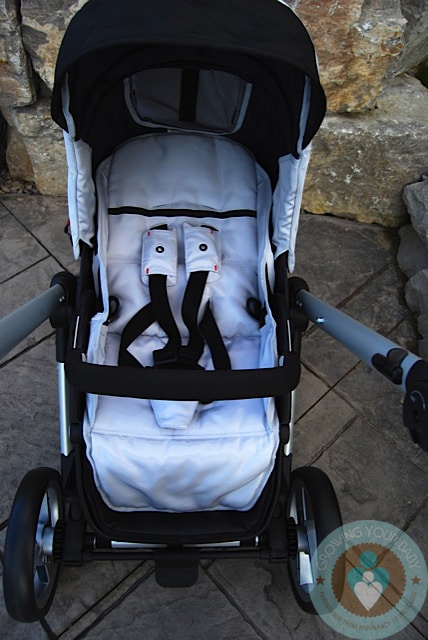 To protect against the elements the EVO has a 2 panel canopy that is expandable to 3 with a zipper plus a sun shade that extends out from the last panel. The hood is designed with a rigid frame that locks in place to prevent it from blowing back during a storm. For parents who will use the stroller every day through all weather conditions Mutsy sells and additional rain cover for the seat and bassinet.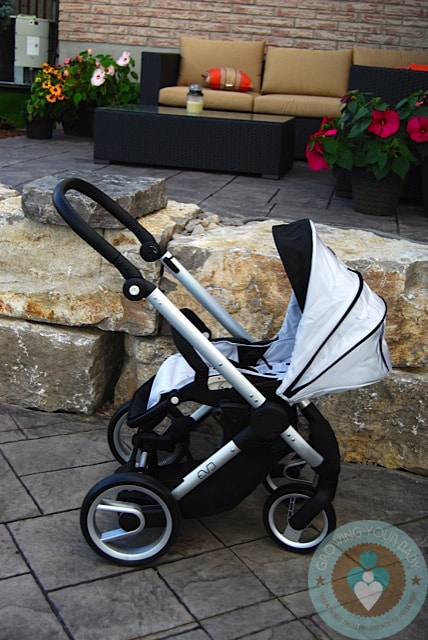 On the top of the canopy parents can keep track of their precious cargo by using the mesh peek-a-book window that is secured with velcro and a magnet.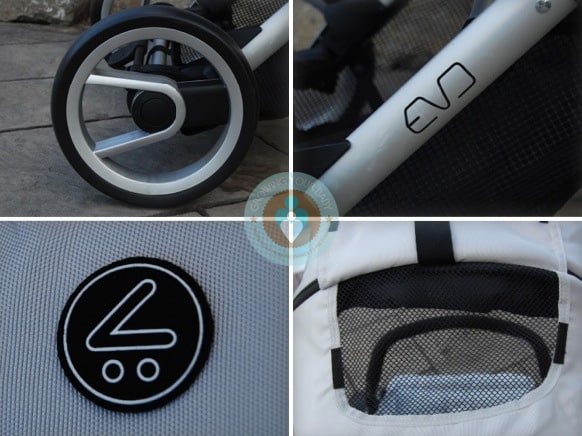 A gorgeous design in the wheels gives the EVO a sleek, modern look. Also incredibly functional, these stylish wheels give the stroller a smooth one-handed push over any terrain. The EVO is pretty but it is also an awesome stroller. With a strong combination of 2 – 9″ rubber front and 2 -11″ back wheels, this buggy navigates easily through grass, gravel and uneven pavement. It is responsive through a busy mall and keeps up if you need to get somewhere quickly.
A central brake lever is easily engaged by just pressing down on the switch and can be done effortlessly with bare feet.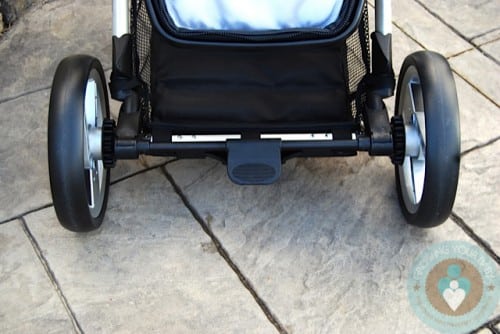 Parents of all heights will love the four-position adjustable handle which sits at 34″, 38″, 42″ and 45″. I love that is a made from a comfortable stitched leather that completes the luxurious feel of this stroller.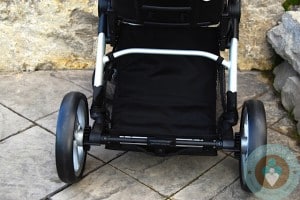 Perfect for a day out the Mutsy EVO has a huge storage basket that is wide open at the back and front for easy access. Measuring 15″ wide and 20″ long there is easily enough room in the basket to hold a large diaper bag plus shopping items if you are out for the day. The basket has been uniquely designed to sit on an incline so I put my purse at the bottom(facing me) and then stack my purchases on top of it to keep everything organized. Mesh on each side prevents anything from spilling out.
One of the features that makes the EVO so great for urban and suburban families is its compact fold. The stroller is easily closed by lowering the handle bar down to its lowest position and pulling back on the levers on the handle bar. This can be done with the seat in any position and while it will close with the seat open, it has a more compact footprint if you fold it completely forward. Parents looking for it to be more compact can remove the seat and put both pieces into their vehicle separately. Additionally, the wheels pop off in just seconds to further reduce the size.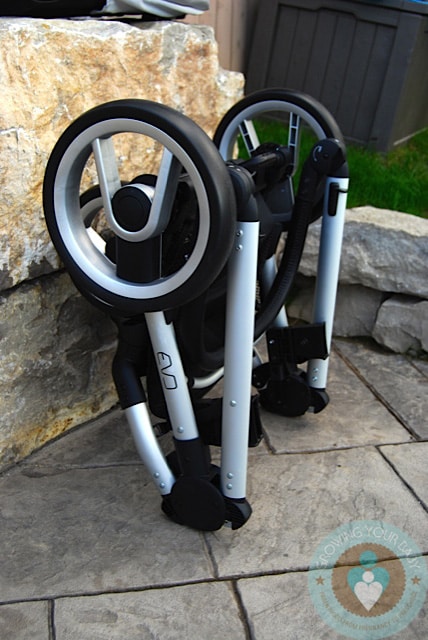 For easy transportation Mutsy has added a rubber carry handle under the rear axle. To carry it, you will have to have the seat folded forward or else it will be too awkward.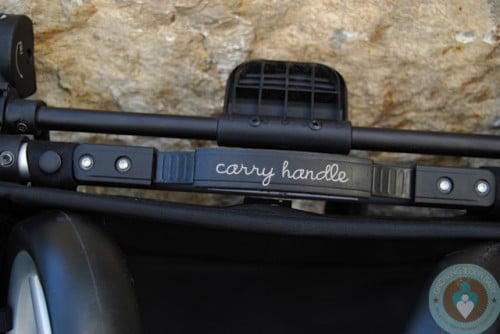 Mutsy offers the EVO in two chassis finishes; black and silver(as tested). The seat and cot come in 6 colors including black, white(as tested), red, navy, bright blue and brown.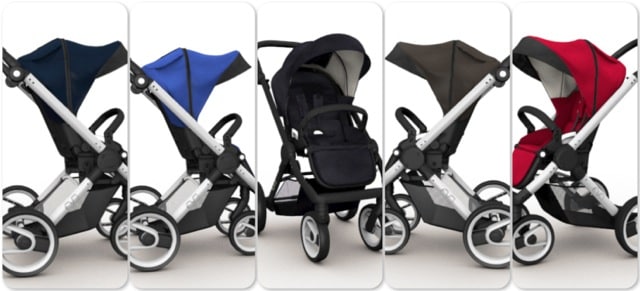 We have had the pleasure of testing quite a few pieces from Mutsy's collection over the years and have always been impressed by the innovation used to make a parents life that much easier. The EVO is yet another stroller that gives parents the option to configure it to their lifestyle.
---
weight
chassis 18.52 lbs
chassis + seat 26.68 lbs
bassinet 10.58 lbs
SPECS:
chassis open 35.04″L x 24.02″W x 41.34″H
chassis folded 26.77″L x 24.02″W x 15.35″H
bassinet 34.25″L x 18.90″W x 23.62″H
---
[ad]