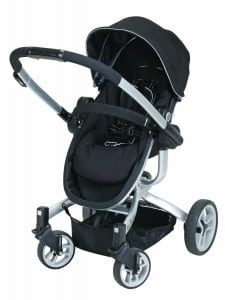 This is the stroller that I have been in love with from a distance for a very long time. When we bought our first single stroller, Teutonias were not available in the US, but I had tried one briefly a few months before and I was absolutely in love with it. When Teutonia finally became available in the US, I was sadly no longer in need of a single. We were about to have baby #4 and I remember driving into the city to test out a few doubles. There parked right next to the doubles was the brand new Teutonia display and  spent most of my time looking at all of the beautiful options, wishing they made a double or that I could figure out some way to survive with a single. Now that I have the amazing  t-linx system sitting here next to me and I've actually spent quality time with my secret love, I'm more hooked than ever. This is really an amazing stroller. I love it far more than I even expected.
Assembly
The t-linx starts out easy straight out of the box. Just pull out the pieces, pop the wheels, add the seat or the car seat and adapter on and you're off. There is nothing difficult about this stroller, really. A few minutes and you're set.
Features
The t-linx system includes the t-tario 35 infant car seat with zip-in privacy shade, the (amazing) stroller frame, the car seat adapter, rain cover and the toddler seat. Available in 2 colors, venetian red and carbon black, the stroller seat and car seat are customizable with machine washable seat covers in 6 patterns. Teutonia also stands behind this stroller with a 3-year warranty, which is quite impressive. Other accessories include, a t-mosquito net, t-changing bag, t-footmuff and the lovely t-handmuff for warm hands all winter. the car seat & toddler seat offer UV 50+ protection and are water resistant fabric with full coverage canopies. The t-tario holds 35 pounds, is very comfy with a nice soft french terry seat insert & teutonia luxury foam, eps energy absorbing foam & is side-impact tested. The easily reversible toddler seat offers multi position one hand recline, a 50 pound weight capacity, a terrific seat back storage area with 2 cupholders and a large zippered pocket.
The frame is the part that I love the most. It offers front spring suspension with no flat air tires, a handy basket fairly simple 2-step fold, side hand brake (you won't know how much you love this until you try it) and best of all, an easily reversible handle. Just squeeze the button on the handlebar and it pops right over. Not only does it allow you to quickly face baby out or in without changing the seat, it allows you to quickly put the big front wheels in front for rougher terrain. The frame configuration also allows for no chance of kicking the axle, no matter how long your stride and no matter which way the handle is positioned. The frame also holds the seat up at a nice height. Best of all, it puts the car seat up very close to you and facing in, so your newborn is always close.
In Use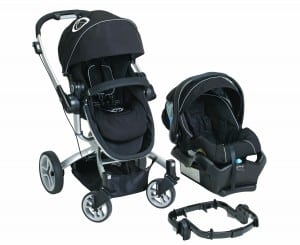 The stroller is terrific no matter where you want to roll. The tires aren't big cushy pneumatic tires, but they are a very good size no-flat air chamber tires with a bit of tread, so they do very well even on rough terrain.  The push is easy and the ride is exceptionally smooth. I took the stroller out with my oldest child, a 42 pound 5 year old and he fit with room to spare. He loves the stroller- great seat, comfy ride with plenty of privacy under to canopy. The harness is easily adjustable up and down and was well suited to both my tall 5 year old, all the way down to his 14 month old sister with no trouble at all. The recline is also easy to use and  can easily be done one handed while rolling. This stroller maneuvers with exceptional ease, one handed is not a problem, even with a 40 plus pounder on board.
The best feature is of course the reversibility of the seat and handlebar. This is one of the easiest seats to reverse that I've tried and I love how easy is it to just pop the handle bar over too. Another thing that is unbelievably simple is the car seat adapter. Having used many, they can also be hard to snap on and off the stroller, the car seat or both. This one is a dream. There's nothing sticky or difficult about it, no straps to adjust or buckles to deal with. It's secure as can be with the minimum amount of effort possible. The adapter is compatible withe the Graco infant Snugride 35 or SafeSeat as well. The t-linx system retails for $699, while the stroller and toddler seat on their own are $499.00.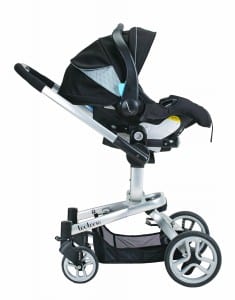 This is such an amazing stroller. I for one am counting the days until I can work my way back down to a single, so I can have one of my own. The features are exceptional and it is so easy to use in every way, I just can't say enough good things about it. Almost forgot, it's also amazing to look at. This is one well designed stroller with an artfully designed combination of form and function. You just can't miss with the t-linx system– birth to 50 pounds, reversible seat, amazing features and ride. It's an absolute winner n every way.
Specifications
Weight: stroller frame with seat 25lbs.(frame 17 lbs)
Dimensions:
width: 22.8″
height: 39.4″
length: 31.1″
---
---
[ad]