The five babies that star in TLC's show Quint- essential celebrate their first birthday today!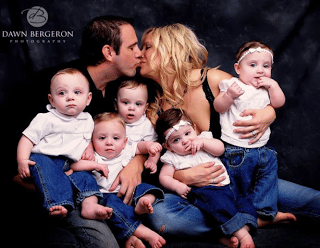 The four part special that covered parents, Pete and Jenny's pregnancy, the delivery and homecoming has wrapped up with a look at how the family is doing now that the babies have been home for 10 months.
As the couple gets ready for Christmas, they also prepare to celebrate getting through the first year with five special babies in their lives.
The special updates us on the progress of each baby and how Pete and Jenny are doing after their first year. All of the babies have changed so much since their arrival, growing in leaps and bounds!
Drayden Karter was born at 3.35lbs, came home at 6.8lbs and now weighs 20lbs!! Jenny describes him as the sensitive one, it concerns him when one of the other babies are crying. She also says that he is independent smiling at her when she is holding one of his brothers or sisters.
Layne Mykel was born at 3.24lbs, came home at just under 6lbs and now weighs over 20lbs. Layne has been diagnosed with having some sight issues. He now wears glasses, which is fairly common for babies that are born very early. He is standing and loves to interact with everyone and everything.
Kieran Skye was born at 3.25 lbs, and now weighs 18lbs. Jenny calls her a little diva and she was the first to come home. Her mom has successfully taught her to be able to sign when she wants milk.
Landyn Konner was born the smallest at 2.5lbs, came home weighing 5.5lbs and now weighs 17lbs. He is a bouncer that can now crawl. Jenny calls him a wild one probably due to the high amount of energy he has.
Irelyn Kadyn was born the heaviest at 3.4lbs, but lost the most weight due to illness. Not long after arriving home she was diagnosed with extra blood flow through her lung, which would lead to congestive heart failure. Surgery needed to be done and now today she weighs a whopping 18lbs. After her surgery she regained her energy and started to show her personality. She is now crawling and standing.
First year quint stats – Collectively they have grown 80lbs and 5ft since birth, have drunken 9,600 bottles and used 18,200 diapers.
One year after delivering her five babies Jenny looks fabulous!! Since her peak she has lost more than 59lbs. She says on more than one occasion that her weight loss is due to keeping up with 5 active babies, but throws in that she might forget to eat every once in a while…
She is currently in school to get her Masters Degree in Social Work. Like a true mom, she uses her diaper bag as her bookbag. It carries her one book for class perfectly.
Pete is a Social worker for families in difficulty. One year later, he is actively looking for a bigger house to allow the family to have more room. The equipment that is needed to keep 5 babies happy appears to take over every corner of the house.
We hope that TLC continues to update the world on this wonderful family. Pete and Jenny really are great parents. There is something about their energy that makes you want to see them do well.
Hopefully the years to come will be as good to them as their last year has been.
PHOTOCREDIT:FERRILLFAMILYWEBSITE VIA DAWNBERGERON.COM
---
[ad]