The Gosselin Sextuplets turn 5 today!
These famous pre-schoolers have come along way since their amazing birth.
On May 10th 2004 at 30 weeks gestation Kate delivered the babies at Penn State Milton S. Hershey Medical Center in Hershey, Pennsylvania. All six arrived via a Caesarean section within a span of three minutes with more than fifty doctors, nurses, and other specialists involved. Since the sextuplets were born in Hershey, they were called "Hershey Kisses" by the nurses and doctors who delivered them.
Alexis Faith, 2 pounds, 11.5 ounces
Hannah Joy, 2 pounds, 11 ounces
Jonathan, 2 pounds 7.5 ounces
Collin Thomas, 3 pounds 0.5 ounces
Leah Hope, 2 pounds 14.8 ounces
Joel Kevin, 2 pounds 9.7 ounces
At the time the Gosselin sextuplets were the seventh set of sextuplets born in the U.S.
Since that time 6 U.S. families have welcomed sextuplets even though not all survived. Those include; Eric and Betty Hayes, Brian and Jenny Masche, Ryan and Brianna Morrison(1 survived), Ben and Karoline Byler, Brian and Gracie Soldani(3 survived) and Victor and Digna Carpio
Here is a picture that shows how far this super six has come: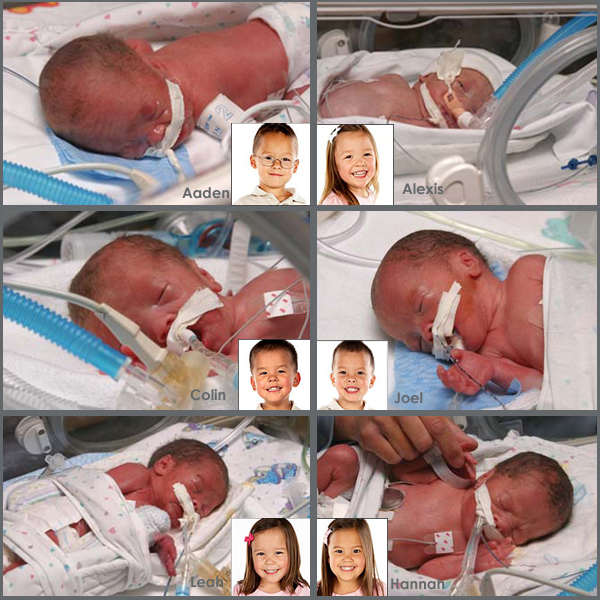 Happy Birthday Gosselins!
---