An allegedly intoxicated  grandma and grampa were arrested in Florida on Sunday after Police spotted them towing their 7-year-old granddaughter in a toy car behind their SUV.
According to the arrest report by a Sarasota County Sheriff's Office deputy Paul and Belinda Berloni admitted they'd been drinking before using 2 dog leashes to hook the small plastic car to their trailer hitch.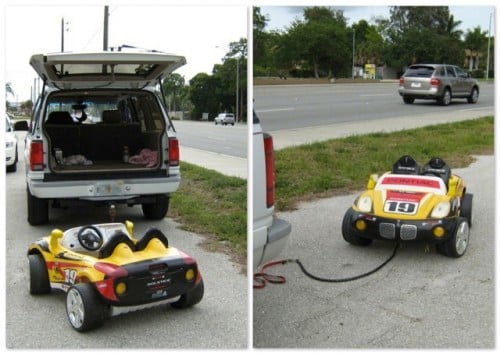 When they were stopped Paul was driving while his wife Belinda cheered the little girl on from the SUV's cargo area. Despite being separated from six lanes of traffic by only a sidewalk, she was not wearing a helmet and only had a bathing suit on.
The deputy "immediately" smelled alcohol coming from Paul Berloni, whose license had been revoked after 3 previous DUI convictions.  He refused to take a field sobriety test and was taken to the police station where he was charged with child endangerment and held on additional charges of driving under the influence and driving with a suspended license.
Belinda told police she understood the activity was dangerous, but "they were just having fun and had been doing this all day."
Police called the little girl's father, Justin Oetting, who was justifiably upset when he arrived to pick up her up. "Are you f—–g stupid? You should know better," he said to his mother before revealing that he thought the pair had a drinking problem, which was clearly a factor in their bad decision making.
---
---
[ad]