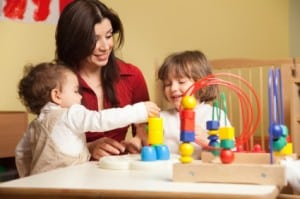 Parents with children who are on the autism spectrum know that the two areas that many of these kids struggle with are social and communication skills. A recent clinic trial has found that early intervention and group play may help improve both of these issues in young children.
The trial, published in the Journal of Child Psychology and Psychiatry, followed a group of toddlers diagnosed with autism to see how much early intervention could help them.  The researchers from Kennedy Krieger Institute found that in very young children, getting help early on allowed for massive improvement in some of the core symptoms of autism.
One of the greatest improvements seen was in how the toddlers were able to socialize and communicate with others. The group-based interventions gave the toddlers more opportunities for social interactions. Group intervention sessions are also more easily and inexpensively done, making it easier for parents and care takers of autistic children to replicate.
"We placed a heavy focus on the ability of toddlers to pay attention to other people's actions and communication behaviors and prepare them to respond and initiate with others in socially appropriate ways," said Rebecca Landa, PhD, CCC-SLP, lead study author and director of Kennedy Krieger's Center for Autism and Related Disorders. "This is critically important because it opens the door to ongoing learning opportunities for toddlers with ASD. When toddlers are attuned to people, people are more motivated to stay engaged with them. Additionally, children learn through imitating others. The ability to connect with peers through imitation can open the door to acceptance and being chosen as a playmate in the classroom or on the playground, for example."
The trial involved two groups of 24 toddlers. The toddlers in each group were aged between 21 and 33 months old. One group was given more chances to socialize with each other during the trial.  After six months of observation, the group with more social opportunities were found to be improved in several areas. Socially engaged imitation, nonverbal communication, and eye contact were all improved for these toddlers.
For both groups of toddlers, their verbal abilities went up. Even the group with less social opportunities, made verbal gains by being part of the limited group interventions. From this study, it seems that group interactions may be more beneficial than one-on-one encounters for toddlers with autism. – Summer, staff writer
Related Articles:
---
[ad]