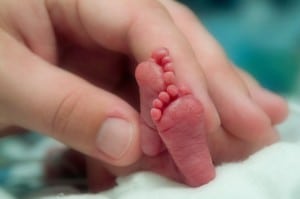 Mother of six, Natasha Tane, was 30 weeks pregnant when she ended up needing the services of the Northland Electricity rescue helicopter. While passing through the clouds, thousands of feet in the air, her daughter was born aboard that emergency flight. The two people who delivered her baby, a midwife and a flight intensive care paramedic, have been deemed by Natasha as 'guardian angels.'
"It was really amazing having her in the helicopter, and I remember looking out and seeing the clouds," Natasha told The New Zealand Herald. "The people who saved her are her guardian angels."
Natasha's daughter, Rayhn Sapphire Waimirirangi Pumipi, was born in transit from Whangarei to Middlemore Hospital on Thursday. Not due until May 15th, the tiny newborn weighed in at 933g. Being born that early, and that small, there were bound to be complications. But midwife Denise McCormack and flight intensive care paramedic Paul Davis were ready for the delivery, even before they left the ground. And despite the cramped spaces, they were able to safely deliver little Rayhn.
"It's roomy compared to other rescue helicopters. But normally, in a hospital, the baby would be taken from mum and put on a resuscitation table and a team would work on the baby," Mr. Davis told The New Zealand Herald. "The key to being in the helicopter is being ahead of the game and having all the gear prepared…We had a plan in place and had all the gear laid out in the event the birth happened. It was a great team effort."
And if the crew was nervous, they certainly didn't show it, Natasha said.
"They were so cool, calm and collected, and they just saved her," Natasha said. "They wrapped her in a special plastic bag and put her on my stomach and resuscitated her. No one was panicking and then there was a little cry and I knew she was going to be alright."
And because Mr. Davis had already placed a call into the Auckland hospital, staff was waiting by with an incubator to take the baby and put her directly into the neo-natal intensive care unit. While still in the NICU, Natasha says that her baby is doing well. There's just one little issue…Natasha says, since Rayhn was delivered in route, she's not sure what the put on the birth certificate.
"I'm not sure what to put on her birth certificate for place of birth," the happy mom said.
Little Rayhn is the third baby to be born aboard the "rescue helicopter delivery suite" while in mid-air Last June, a baby was born while in transit to the Whangarei Hospital, and in 2003, Tamaho Paora was born aboard the chopper.
Related Articles:
---