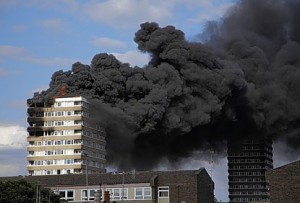 When fire broke out on the top floor of an apartment building in South-west London, it was heroics of one young man that saved the life of a scared 10 month old little girl.
22 year old Tommy Mackay was playing football with his friends when he noticed smoke coming from a nearby apartment. He rushed to the spot with a couple of friends and ran up the stairs of the 15 storey building when he heard that a baby was stranded on the top floor.
Says Tommy, "Me and a couple of friends ran up. One woman was shouting 'my baby is up there'. I made it up to the top floor and there was a Chinese boy hitting a door with a golf club but he was only making holes. So I kicked the door in. I ran in there and threw a T-shirt on the baby's head and ran down."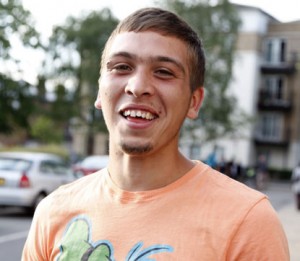 Needless to say his efforts saved the baby's life.
Ten-month-old Layla O'Shea became stuck after the door shut trapping the toddler inside as this fire spread through the floor of flats.
The toddler's mom told the Standard:
"I had gone to throw a nappy away and got locked out. Then everyone started shouting fire, fire'.

"I had started panicking and kicking the door. I was terrified. I thought we were going to die.

"Then some people came running up the stairs and managed to kick the door in and get Layla out.

"It is a huge relief. I am still in shock. I'm very grateful to him [Tommy] and thanked him when we came down, and gave him a kiss. He is a hero. We are just lucky. Extremely lucky."
Firemen were called to control the blaze at 4.47 pm and with the help of 25 engines, 2 aerial ladder platforms and over 100 firemen, they were able to control the fire just before 9.00 pm.
While the cause of the fire is still unknown, a 32-year-old woman was arrested over night. Police said they were treating the blaze as "suspicious" and specialists were expected to begin examining the scene today. – Atula, Staff Writer

---
[ad]