If having identical triplets wasn't amazing enough, a Pennsylvania couple welcomed them at 33 weeks gestation on their third anniversary.
Matthew, Nathan and Michael arrived on September 30 each weighing just over 5lbs each.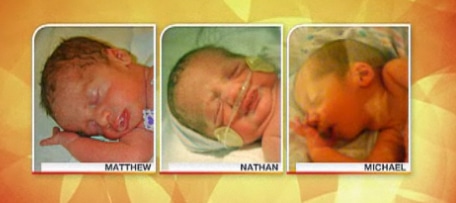 New parents Amanda and Matt Faher spoke to The Today's show host Ann Curry this morning about the amazing delivery and Amanda's complicated pregnancy.
The Fahers learned that Amanda was carrying triplets during a routine ultrasound 18 weeks into her pregnancy. The technician saw two fetuses, then spotted another. Understandably, Amanda was shocked — but she still had the presence of mind to ask the technician to please not find any more.

As the pregnancy progressed, Amanda contracted preeclampsia, a condition associated with multiple embryos that causes high blood pressure and toxemia late in the pregnancy. She also developed gestational diabetes.
Despite the complications, Amanda continued working from home during her pregnancy until the preeclampsia intensified and she was admitted to hospital.
After only eight days, doctors made the decision to take the babies by Caesarean. Just by coincidence, that same say was Amanda's 33rd week of pregnancy, and the couple's wedding anniversary.
Identical triplets — which are called spontaneous triplets in the medical literature — are a rare occurrence. In the United States, the odds of such pregnancies are one in a million. In other countries, the odds go as high as one in 200 million, which is higher than the odds of winning the Powerball lottery.
Related Articles:
---
[ad]