NASCAR driver Jeff Gordon was spotted relaxing poolside with his Wife Ingrid Vandebosch and daughter Ella in Miami yesterday.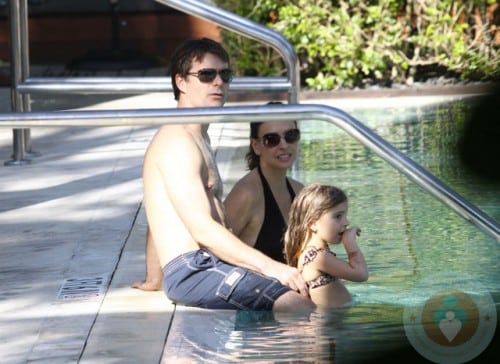 The Gordon family are in Miami to support Jeff this weekend at the NASCAR Ford 400, which will be held Homestead-Miami Speedway.
This week it was announced that Jeff was NASCARs Illustrated Person of the Year for the third time. In a statement Jay Pfeifer, editor of NASCAR Illustrated said,
"We are thrilled to name Jeff Gordon the 2011 NASCAR Illustrated Person of the Year. In addition to scoring his 85th win, third-most in NASCAR history, he took his philanthropy to a new level. By expanding his fight against pediatric cancer to Africa, Gordon showed that compassion can extend across borders and around the world. We salute Jeff for his incredible achievements."
After the season ends Jeff is scheduled to travel to the Democratic Republic of the Congo with the Clinton Global Initiative, a special program created by former President Bill Clinton to improve the lives of 43 million internally displaced persons and refugees around the world.
Related Articles:
{FAME}