Down to earth momJennifer Garner was spotted with her girls over the weekend picking out some fresh fruit and veggies at the Santa Monica Farmer's Market.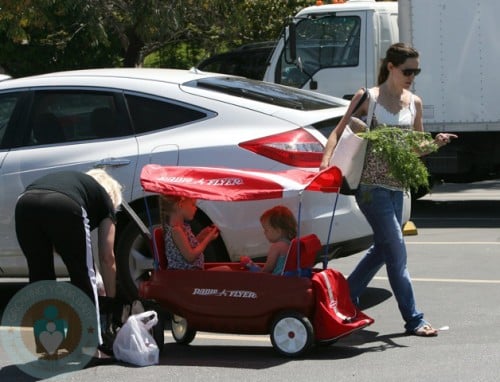 Violet, 4, and Seraphina, 16 months, relaxed in an Radio Flyer Ultimate Comfort wagon while Jen ran around the market picking up everything she needed.
Rumors are rampant today that Jen's former show Alias maybe making a comeback. Eonline is reporting that:
A reliable insider at ABC tells them that there is talk of the network doing a "reboot" of one of the greatest TV series of all time, J.J. Abrams' Alias.
According to this source, ABC is hoping to hold onto its lost Lost audience with a re-envisioned J.J. Abrams series, in light of FlashForward not working out so well.(It was recently canceled)
Could Sydney Bristow be coming back to the small screen?  I guess only time will tell.
Related Articles:
{WENN}