Jennifer Garner and Marla Sokoloff were spotted enjoying a lunch out together in LA yesterday.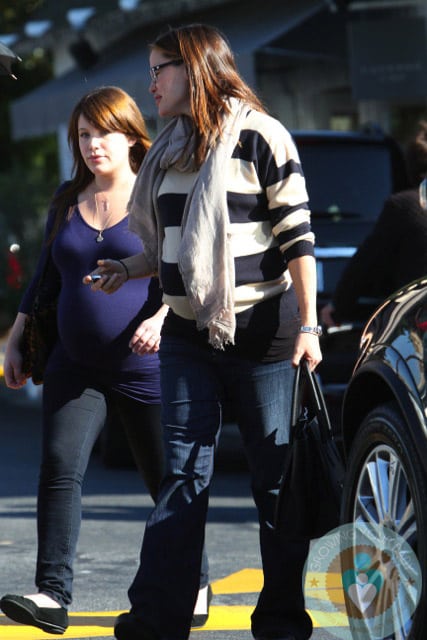 The actresses, who worked together in 2000 on 'Dude Wheres My Car?', are due to expect babies soon; Marla her first, Jennifer her third.
Both moms-to-be were dressed down in jeans, while Jennifer opted for her signature scarf to partially cover her growing belly.
While it hasn't been revealed when Jen will welcome baby #3, Marla is due with her little girl at the end of the month. Last week she told Celebrity Baby Scoop she was realistic about giving birth saying,
My birth plan is simply getting her out safely! I'm not one of those pregnant women who have a 40-page birth plan ready to go. One of my best friends had it all planned out then wound up having an emergency C-section, so you really never know. I'm really trying to go with the flow the best I can in every capacity of pregnancy. Not to say I'm being flippant about the process – I've definitely thought about it and educated myself on labor and delivery. I trust my doctor 100% so that is also giving me the confidence to take this on without added anxiety. I plan on delivering in the hospital and would LOVE to tell you that it will be a drug free experience, but I don't think that's in the cards for me.
---
Related Articles:
{INFphoto.com FAME/FLYNET}
---
[ad]