The joys of motherhood came hard and fast for Jillian Michaels and her partner Heidi Rhoades in May of last year when the pair welcomed a baby boy and a little girl from Haiti.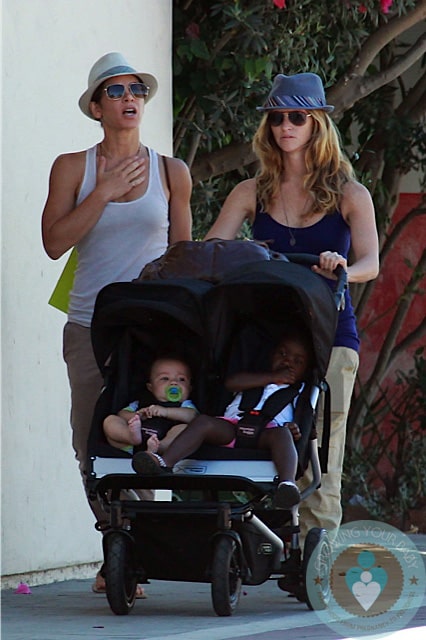 And while Jillian and Heidi have settled into their roles quite comfortably there is one thing the Biggest Loser coach can't quite get used to  – baby puke!
"Oh my God, the puking!" she revealed to Us Weekly at a Television Critics Association cocktail party on Jan. 6. "I did not anticipate how much a child under 1 [year old] throws up! Every day. Every day! I just look at him, [like], 'Phoenix, honey, when do you stop puking?' I'm told it's after a year. But there isn't a day that I don't get projectile vomited on."
Dealing with the other end, has also been a little embarrassing for the new mom as well, who recalled an incident in which Phoenix's diaper exploded all over the wall of a physical therapist's office.
"I just died inside that day!" she said. "He was like, 'It's okay, I have two kids.' [But] we've never gone back."
Looking forward to him getting past the baby stage, Jillian is excited to bond with him over martial arts.
"I have this vision of doing [parkour, an obstacle course-style exercise] with my son one day," she told Us. "I'll tell him, 'We're gonna do Brazilian Jujitsu together, we're going to do parkour together!' And he'll be like, 'Mom, I want to take ballet!'"
Because Lukensia, the couple's 2 year-old daughter from Haiti is at a different stage, Jillian talks to her about image and positive roll models who are a little more curvy, the fitness guru notes her taste has changed.
Recalling her fateful trip to Haiti when she was introduced to her little lady, Jillian told US Magazine,
"I was visiting this one orphanage, and the next thing I knew, she jumped into my arms," the trainer told Ladies' Home Journal of her little girl. "She just grabbed me and clung to me and I immediately felt something. I was like, 'Oh my God, this is my daughter.'"
And that has continued now that she is her mom.  Anytime we see photos of them out Lukensia is attached to her mom's hip like she never wants to let her go.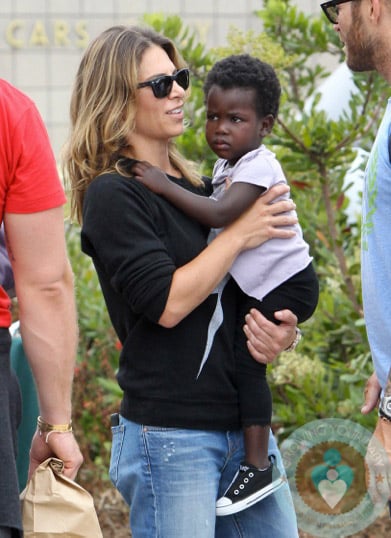 ---
[ad]