Sometimes when a couple can't conceive they get creative, and that is exactly what Fernanda Medeiros did when she was unable to have a baby.  Left infertile at 13, after her uterus was removed due to a health issue, Fernanda turned to her mom, Maria da Gloria, to help make her baby dreams come true.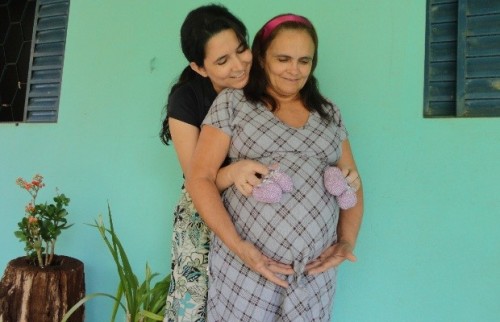 In 2005 she saw a program on television about a grandmother who gave birth to her grandson. She visited a doctor with her mother who told them the pregnancy would be too risky at Maria's age.  When they returned in 2011 tests revealed Maria was healthy enough to carry a child. To prepare her body for the pregnancy Maria lost 11 lbs and also had to take hormones to restart her menstrual cycle.
When the first round of IVF failed, doctors transferred two embryos during the second round of IVF, which both implanted and ultimately resulted in a twin birth.
On Monday Maria gave birth to two healthy girls, called Emmanuel and Julia, four weeks early via Caesearean section in Setor Aeroporto, Goiânia.
Hoping to breastfeed her babies, Fernanda undergoing a treatment to help her lactate, which is being closely monitored by a psychologist. "Let's wait and see what will be the best way for them [the twins]," the doctor told G1 news outlet.
Now Fernanda and her husband need to have legal guardianship of the babies transferred to her so that they can be included on her health plan and also so she can take maternity leave to look after them.  So far they have been unable to have the case seen by a judge.
Congratulations to the couple.  They have definitely come a long way to make their parenthood dreams come true.
Related Articles:
---