Last year when I toured Joovy's booth at the ABC show in Vegas I was excited to see that they were showing two battery operated ride-on cars; a jeep and a race car.(photo below are of the prototypes on display at the show)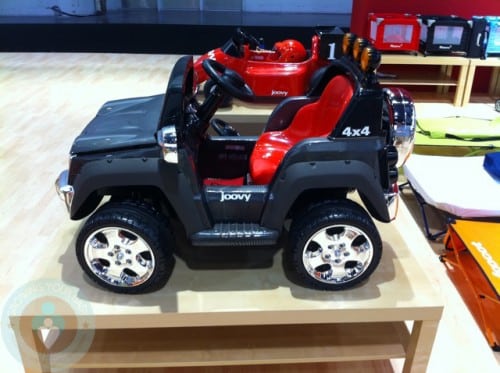 Since that time I have waited for the announcement that they would be available and it seems that day has come!
The family gear company announced today that they are taking orders and will be shipping both models on December 6th.
I mean really.  How fun would it be for your little one to be cruising around the neighbourhood in their own race car?
The Joovy 4×4 Ride-On($499) and the Race Car($399) are top-of-the-line battery-powered vehicles for children. Both super-powered ride-ons have 2 motors, each motor powers a rear wheel.  Many competitors use only one motor to operate both wheels.  Joovy manufactures this exceptional ride-on vehicle in Taiwan and uses top grade motors and batteries.  With an On/Off key, real head lights, 2 speeds and a reverse gear, it's only a matter of time before the 5 year old is asking for the keys to the car in the driveway.  The 4×4 is available in Blueberry, Black and Pink. The Race Car comes in Red or Lemontree with a sporty black spoiler on the back.
Both cars are designed for children 3 – 5 years and the maximum Weight is 80 lbs.
Related Articles: