Kate Hudson was absolutely beautiful in a full-length gold gown last night at the Costume Institute Gala in New York event, held at The Metropolitan Museum of Art.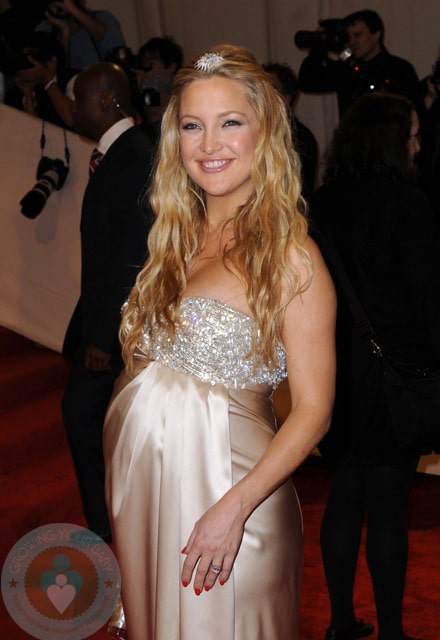 The actress stole the show in a sequined Stella McCartney gown that was accessorized by a jewelled flower in her hair and her sparkling engagement ring.
Kate recently spoke to Starpulse about how this pregnancy is different from when she was expecting Ryder saying,
It's a totally different pregnancy completely. I mean, couldn't be more opposite, everything. This time I'm actually set up, whereas before, I remember with Ryder I didn't even have a nursery. I was trying to get the nursery together. I didn't really have a house until I was seven months pregnant, a home. This time it feels like I actually got to paint a nursery. I actually have a color in a room.
Will it be blue, pink, yellow or green?
I'm going with neutral color. I don't know what it is so it's neutral. I like yellow. Yellow's a good sunny color for kids I think.
Is Ryder excited about being a big brother?
He is, yes, but he's already a brother. He's got a sister but yeah, now he's really enjoying it. He likes making fun of me. He's a kid, he loves it. "You're huge!" and all that kind of stuff. He's very protective. I put spicy stuff on my food, he goes, "Mom, don't eat that." I was like, "What?" He goes, "Don't eat that." This was last night. He goes, "The baby might not like spicy." I was like what is going on? All of a sudden he doesn't want me to drive a car. You shouldn't be driving. I can't get up on anything high. I got up on the thing to get his ball out and he just went, get down. He's very protective. It's pretty cute.
Kate and fiance Matt Bellamy expect their first baby(her second) next month.
---
Related Articles:
{FAME & WENN}
---
[ad]