For months Kelly Clarkson gushed about how much she wanted to get pregnant and become a mom. But, now that her dream is becoming a reality, the experience is not what she hoped it would be.
It is estimated that about 90% of women experience some degree of nausea or vomiting during their pregnancy. Hyperemesis gravidarum, 'a complication of pregnancy characterized by intractable nausea, vomiting, and dehydration' is only thought to affect less than 2.0% of pregnant women. Kelly, it appears, may be in that lower percentage.
During an interview with Ellen DeGeneres, the 31-year-old singer vented to the host about how "miserable" she's been feeling during the first trimester of her pregnancy.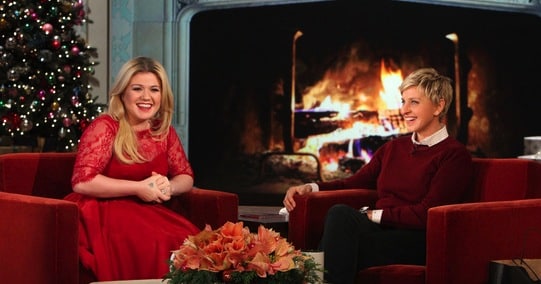 "I vomit a good dozen times a day its like bad. I vomited before coming out here," Clarkson shared. "I'm not even kidding, it's so bad. It's so bad. It's, like, so gross. And that's the thing too, you're not attractive when you're pregnant. Everybody tells you [that] you glow and your hair is pretty and your nails are pretty. That is total crap. My nails are short, my hair still falls out — it's not all lush and beautiful — and I have no glow. Unless it's, like, something left over from a bad throw up. It's horrible."
Eleven weeks along, Kelly told Ellen she thrown up every single day – except for one.
"I had one day — it was either before Thanksgiving or the day after Thanksgiving, I can't remember — I didn't throw up one time that day. I literally cried to my sister and mom I was like, 'It's over.' They said it would be abrupt and it would just end. Then the next day, nope, it just picked on right back up."

"It's miserable," Clarkson added. "But I'm so happy I'm pregnant. I just wish he or she would stop trying to kill me."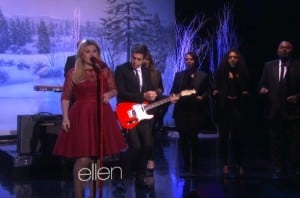 Au contraire. Her little one is telling her that they are doing well!
Researchers believe that morning sickness occurs shortly after the fertilized egg attaches to your uterine lining and the body starts to produce a hormone called human chorionic gonadotropin (HCG). As a result, nausea during pregnancy might indicate that a mom-to-be is experiencing the normal climb in pregnancy hormones needed for a healthy pregnancy.
The Mayo Clinic also notes that nausea during pregnancy might:
Reduce fetal exposure to potentially dangerous substances in your diet
Encourage you to eat foods that contain certain nutrients, such as those rich in carbohydrates
Prompt you to adjust your activity level to favor maternal and fetal tissue growth
In many cases morning sickness subsides by week 20.  So hopefully Kelly's body will give her a bit a reprieve soon!