Gossip Girls actress Kelly Rutherford talks to US Magazine about preparing for the arrival of her second child with hubby Daniel Giersch — and at the same time, breast-feeding 2-year-old son Hermes.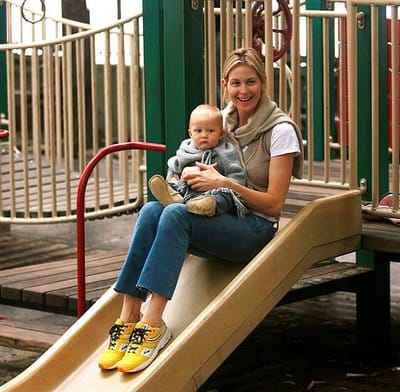 "It's an amazing bond with your child," says the mom-to-be, 40. "Some cultures do it up to five years, normally. I thought, 'Well, I'll just do it as long as it feels right for my son.'"

What's more, she says, "I was thinner after my pregnancy than before, and I think a lot of it was the nursing. They say it helps your body get back to shape in a natural way."
While some people don't think that breast feeding while pregnant is a good idea, the La Leche League makes these good points:
Contrary to popular belief, in a normal pregnancy, there is no evidence that continuing to breastfeed will deprive your unborn child of necessary nutrients
Uterine contractions are experienced during breastfeeding, they are a normal part of pregnancy, they also occur during sexual activity, which most couples continue during pregnancy
Women who breastfeed while pregnant often find their milk supply decreases around the fourth or fifth month. If your breastfeeding baby is less than a year old, watch his weight gain to be sure he is getting enough to eat.
It's also not uncommon for the flavor of your milk to change. These changes may prompt some older toddlers to nurse less often or to wean entirely.
---