One of my favourite toys as a kid was Alphie the Robot.  At that time it was the closest thing that a child to get to a computer.  New for 2010, Playskool has brought back the smart talking robot and he is as cute as ever.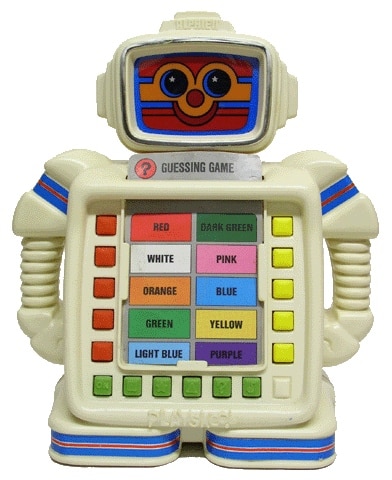 When Alphie arrived I was a bit excited that the boys were napping so I could play with him first.  I had seen him at Toy Fair in February, but hadn't really got to see what he could do.
Now re-designed from the one I had as a kid, the new Alphie features a digital screen that depicts facial expressions and 8 buttons down the front.   Once powered on he immediately lets your child know that he's ready to play by sometimes firing up his engine and if you press the button on his head he will ask you for something specific by saying, find him a card with something orange on it.  Leave him longer without a card and he may ask you to scratch and itch he has by pushing a certain button.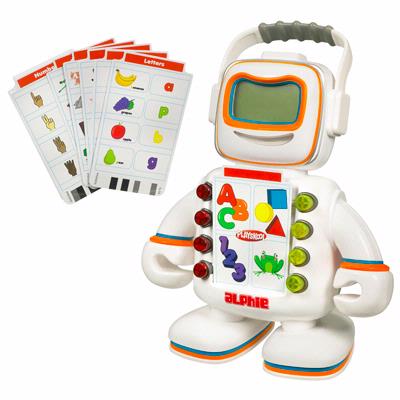 To get you started Alphie comes with 30 double-sided cards that teach the skills like shapes, colors, counting, letters, numbers and music.
He switches easily from one card to another if your child wants to change and doesn't pause for even a second when a new one is put in.
I have to say that the cute phrases that Alphie uses makes this robot fun to just sit and just listen to.  He is very motivational and always has something nice to say – even if your child gets the answer wrong.  Because it's hard to explain all of his clever phrases, I videotaped him responding to me answering some of his questions right and some wrong.
Watch here:

Alphie is also designed with a handle on his head to make it easy for your child to tote him around and with storage in the back to hold the cards so they don't get lost.
My boys are very fond of Alphie and even though my youngest is not old enough to understand what to do he loves the flashing lights and music.  Playskool did a great job of creating a toy that will keep your child interested while teaching them important skills.  I also like that you can purchase 'booster' packs($10 letters & numbers) to extend the life of the toy and make it new again.
---
[ad]