A successful vacation includes aspects that make every member of the family happy. For us, our favorite way to vacation is on a cruise boat. But, over the last 10 years the way we cruise has changed so many times.
Before we had the boys we would live it up – eat until our hearts were content in the dining room, take in a show and then dance the night away at one of the ship's clubs. That made us happy. But after our first son arrived, we tried the dining room and had very little success. When we started cruising with our two kids that pain was multiplied and we abandoned the mission all together. The key, we found, was sailing with a line that was dedicated to ensuring that our kids had their own things to do.
When planning this year's cruise together, I approached it with a new strategy. Our ace in the hole was the kid's club. We would spend time together as a family during the day and have a quick dinner together before they would depart for an evening of excitement. They could have some kid time and play games and we could have that delicious meal that cruises are so well-known for. This makes everyone happy!
Two weeks ago we had the pleasure of sailing on Royal Caribbean's Freedom of the Seas with our two boys.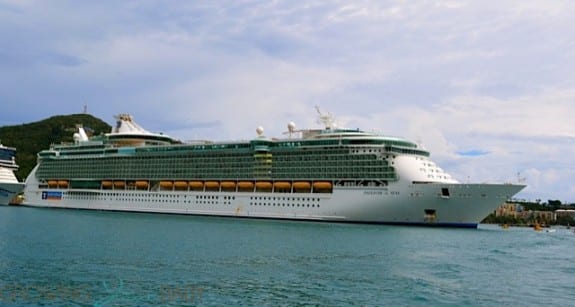 The trip was relaxing, adventurous and it included many firsts for everyone. Here are some of the highlights for families!
If your family has an early dinner reservation in the dining room (5:30) the staff will expedite your child's meal request so they can be fed and happy before their big night out with their friends at Adventure Ocean. My husband and I would take turns taking the boys up to the club, until we realized that you could pre-register for staff to meet them at the entrance of the dining room and escort them up. I really liked this. It's convenient, and it gives everyone their own time at the end of the day! Plus, the kids don't want to dine. They want to eat and go and this allows them to do that.
Adventure Ocean
Royal has done a great job of creating a variety of programs for kids cruising in all age brackets. When the ship was revitalized in 2011 Royal added the nursery, a dedicated space for little ones aged 6 months to 36 months. Available day and night, for an hourly fee of $6 in the daytime and $8 during the evening, parents who would like to drop their children off so they can have some time together can.
At different times during the day Royal also has their Royal Babies® or Royal Tots® interactive playgroup sessions, which have been developed by early childhood experts at Fisher-Price®.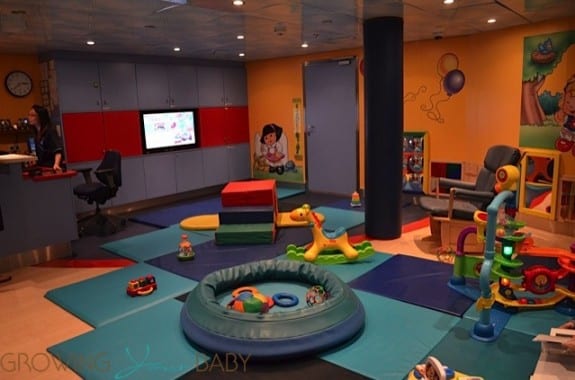 Each 45-minute session, held in one of the onboard lounges, offers activities that make playtime learning time as well. This is a parent and child class so it is complementary.
Families who want to keep their little ones occupied in the cabin also have access to the Fisher-Price toy lending library, which is filled with classic kid's favorites and toys that are new to the market.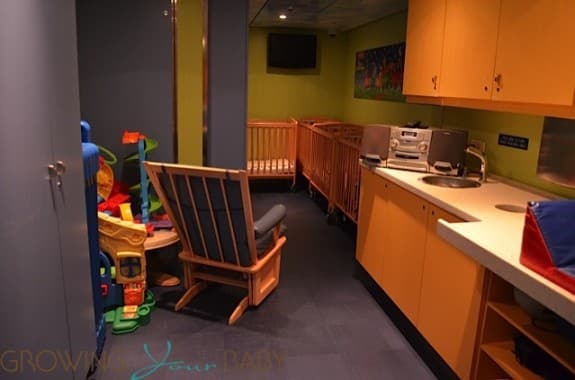 We used this service years ago when the boys were small and it was a godsend because, at the time, there wasn't any room in our suitcase to schlep all of our favorites to the Caribbean.
For kids 3-17, Royal has divided their programs into 5 groups; Aquanauts (3-5), Explorers (6-8), Voyagers (9-11) and two teen groups 12-14 and 15-17. The Adventure Ocean program is complimentary for kids who would like to visit for one of the three sessions offered daily(excluding the first day of the cruise).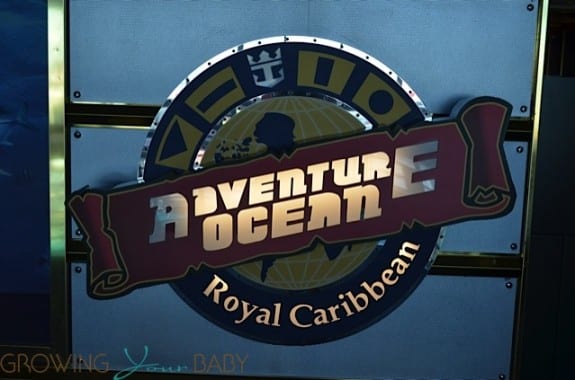 Each program has it's own space and own daily schedule. Parents can choose from the morning session(8am-12), afternoon session(1pm-3) and evening session(6:45pm-10). A fourth session is offered called the Late night party zone but there is a 7/hr per child fee for kids who stay between 10pm and 2 am.
My youngest son was an Aquanaut this year and he enjoyed meeting new kids on board and also participating in pajamarama movie night, the 'superhero academy', where he had his face painted and was presented back to us with a cape on; and camp aquanauta. The room the kids play in is equipped with a ship shaped play area complete with a slide, a craft area and also a fun turtle shell with star like lights, which they used to make a fort.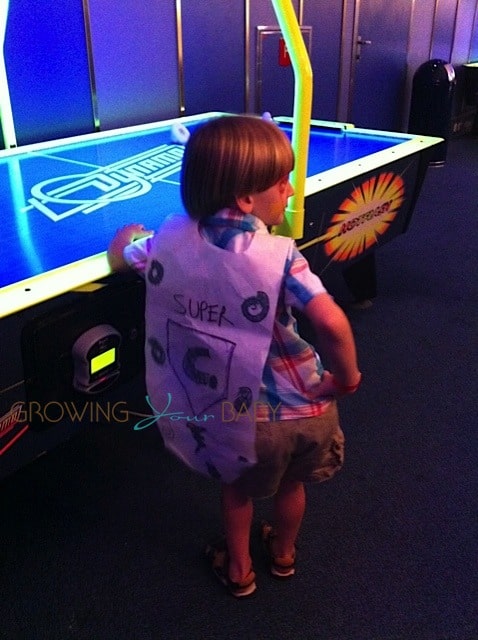 Many of themes from the Aquanauts were mirrored in my oldest son's program(Explorers). He LOVED rock n roll night, PJ movie night and spaced out. Knowing that he has autism, I found the staff really went the extra mile to keep him included in all the activities and let him do his own thing when they realized it was too much for him. The room is divided into many areas for kids of all interests. They can play video games, read a book, do crafts or dance their hearts out on the dance floor.
Kids in the Voyager program have many of the same themes, with parts of the night set aside for science, sports and games.
Teens (12-17) onboard have their own 'living room' and the Fuel disco which are both open all day. Royal also organizes a variety of around the ship activities for each age group including rock climbing competitions, dodgeball and teen flowrider sessions, dive-in movie nights, a prom night take over and the tacky tourist party. Nightly a teen daily compass is left in your cabin to keep them up to date on what is happening the following day.
To prevent kids from roaming the ship all night Royal enforces a 1am curfew for teens 17 and under.
Barbie Premium Experience
When we arrived our room was decorated for the Barbie™ Premium Experience . As part of their partnership with Mattel, Royal has put together a program that brings aboard the fab-tastic style of the world's most famous doll! From the moment you step on board you will be Barbified with a decorated cabin, complete with a Barbie magnet on the door, organza sash on the chair, a satin pillow case, fluffy blanket, and quite a few cute accessories like a new Barbie, a change of outfits and a case that was equipped with a Barbie toothbrush and toothpaste.
Over the next few days kids signed up for the experience will take part in a dress decorating class, Tiaras & Teacups Party, Mermaid Dance Class, and a fashion show!
For an additional $349 per child on sailings 5 nights or longer, kids can 'set sail on a Barbie dream cruise complete with fun, fashion and runway moments.'
The Dreamworks Experience
First introduced on Allure in 2010, the Dreamworks Experience is currently available to guests sailing on Oasis class ships, Freedom of the Seas, Liberty of the Seas, Voyager of the Seas and Mariner of the Seas. My boys LOVED meeting all of their favorite characters last year and that excitement continued on Freedom this year. At various times of the day we would just run into Po, Gloria, Alex the Lion or King Julian strolling through the promenade or the pool deck.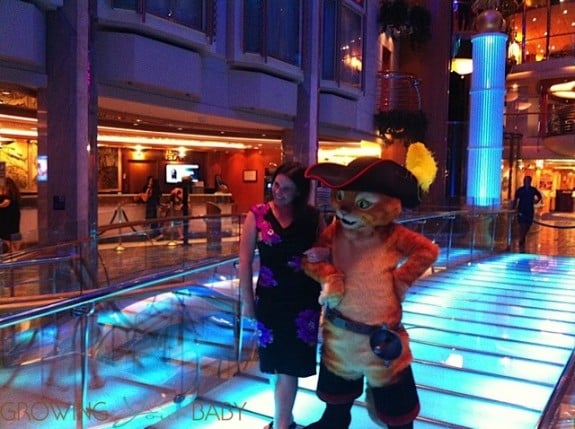 As expected, the kids would lose their minds! Before we boarded the ship we spent two days at Universal so their Dreamworks love was at an all-time high.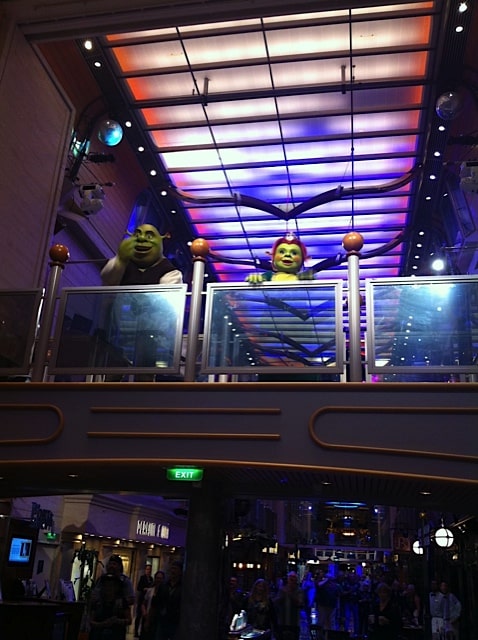 This was taken to the next level during a quaint breakfast in the dining room with Puss in Boots, Shrek & Fiona. They all arrived to cheers and did a little dance for us before making their rounds to each table for photo ops.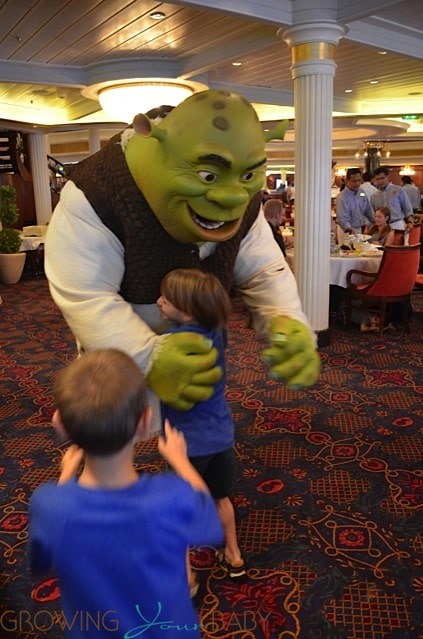 The experience however that was the best for the kids was the farewell parade in the promenade on the last evening. If somehow you missed the characters during your week on board this is your time for redemption! Coming from both directions down the Royal Promenade, and also dropping from the ceiling, all the Dreamworks characters dance down the middle of the walkway personally saying goodbye to everyone. The parade only lasts about 10 minutes, but I guarantee your kids will be talking about it for days to come.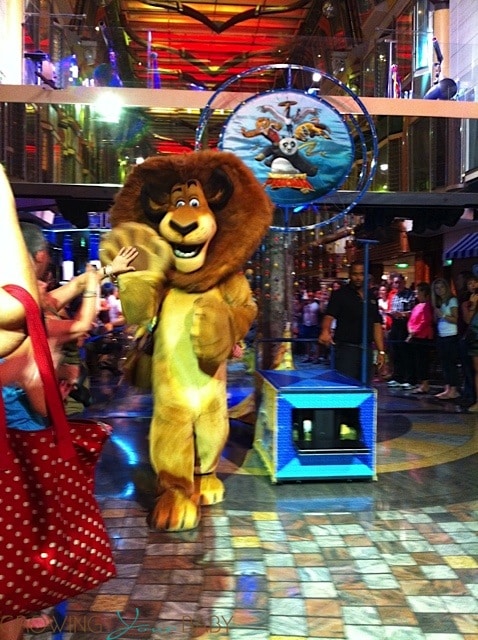 The H20 Zone
Occupying the whole mid-back section of the ship, the H20 zone is the place to be during most days. Whether we were sailing the open seas or docked at a port, my kids were always negotiating a time that they would be able to hang out by the pool.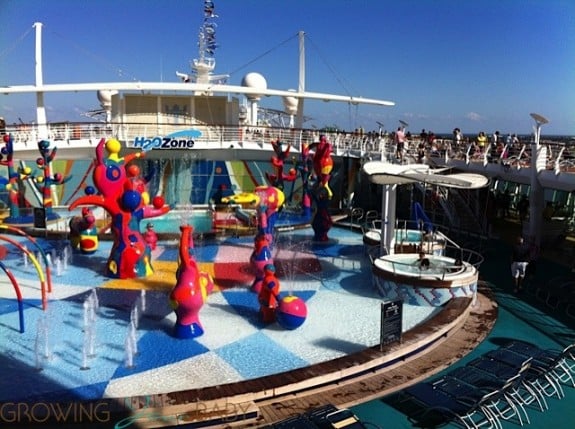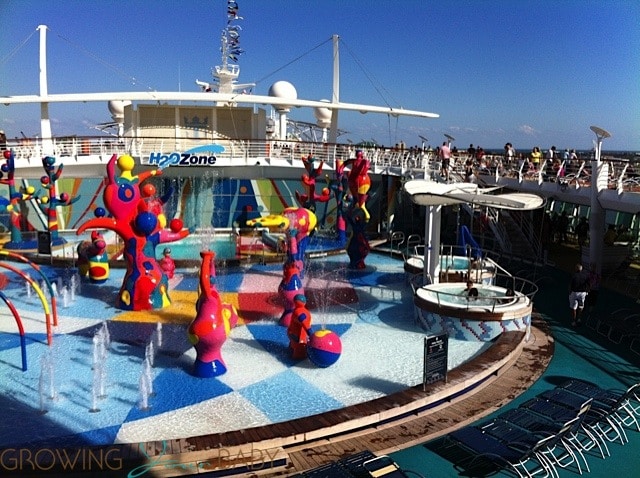 Designed with 15 bright Romero Britto statues that each spray water from different areas, this splash pad was always full of water-loving little ones. Spraying, splashing, swimming and snacking on ice cream, my boys would hands down tell you this was their favorite part of the ship.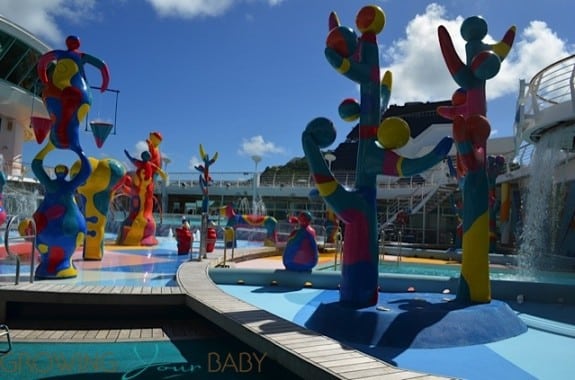 They soaked in the hot tub on the cooler rainy days and swirled around in the current pool with their friends till the sun went down.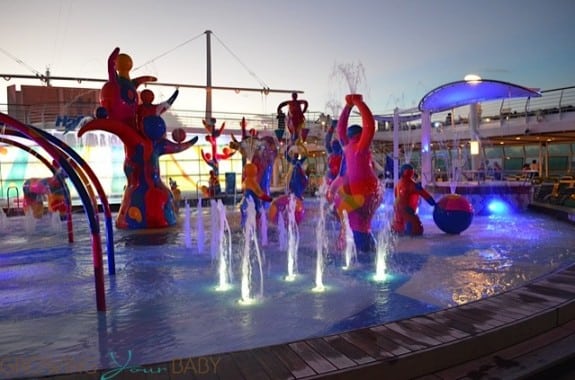 Ice Skating
How often can you say you ice skated while vacationing in the Caribbean? Not very often, but somehow my kids will be able to make this claim and it will be true! Truth be told they do not like skating at all. We put them in lessons last year and they cried for 10 straight weeks. We get them on board the ship and all of the sudden they love to skate and wanted to do it every day. And they could. There were free skate sessions all week – except on days when there would be an ice show. My boys went twice and loved every minute. They also met some of the skaters from the show, many of which are from our Country and Province.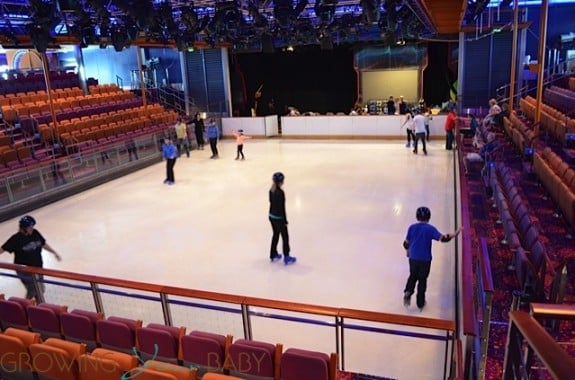 Cupcake Decorating
Half way through our voyage we gave in to our sweet tooth and headed to the Cupcake Cupboard to decorate cupcakes. My son loved doing this on Allure last year and had been asking to do it every time we passed by the shop in the Promenade. He won't be a pastry chef any time soon, but he sure had a great time creating his monkey.
The girls who lead the class are very patient and did a great job instructing our group on how to make a decorative cake. My guy was so proud he didn't eat it until the next day.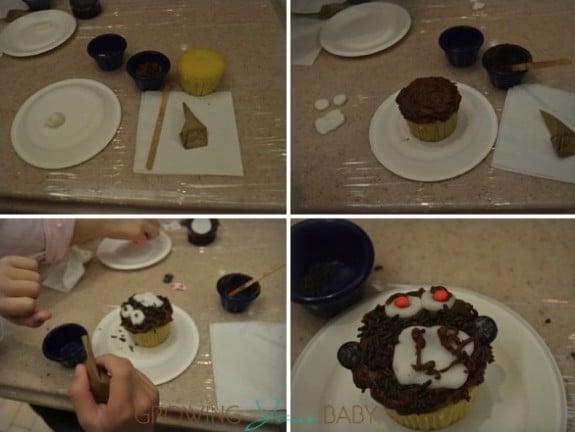 Planning a family vacation can sometimes be challenging. When it is just my husband and I we are happy with good food, warm weather, some activities and pretty beaches. With my kids there always needs to be more. They are always looking for the wow. I know this ahead of time and really work hard to find destinations that excite them but also keep them busy. In the last 10 years family friendly amenities on board cruise ships has multiplied exponentially. Surfing, rock climbing, waterparks and specialty experiences – the cruise lines have definitely caught on to what kids want and they are delivering. Freedom delivers!
During the 7 days we were on board our boys lived it up, met new friends and tried lots of new things. This is why cruising truly is our favorite way to travel because it mixes luxury, culture and excitement.
For more information on Freedom of the seas please visit RoyalCaribbean.com
---
[ad]