For the past 20 years cruising has been my favorite way to travel.  I am incredibly fussy when it comes to food and cruise boats, I have found that Royal Caribbean excels in this department!  Plus, who doesn't want to see the world in style?  And most luxury liners often take that to the next level.
We have been cruising with Royal Caribbean for many years.  We celebrated our first anniversary on Enchantment of the Seas, cruised the following year on Adventure of the Seas and sailed for the first time with our son on Serenade of the Seas.  They fit our lifestyle and we love the endless holiday possibilities they provide.
From 2006 until construction of Royal Caribbean International's Oasis-class ships in 2009, Freedom of the Seas was the largest passenger ship on the water.  Measuring 1,112 ft, it boasts 15 passenger decks, 10 restaurants, 16 bars and lounges and has a max guest capacity of 4375 guests.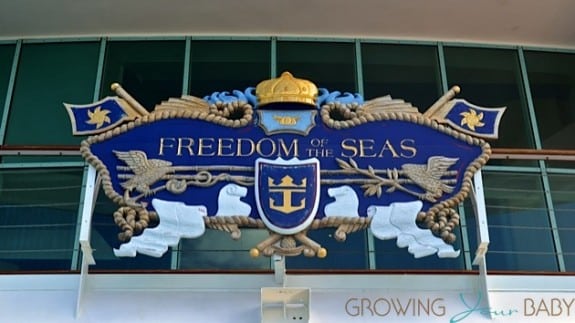 Two weeks ago we made her our home for a week!   It was a treat getting away from the cold and also exploring everything Royal has to offer.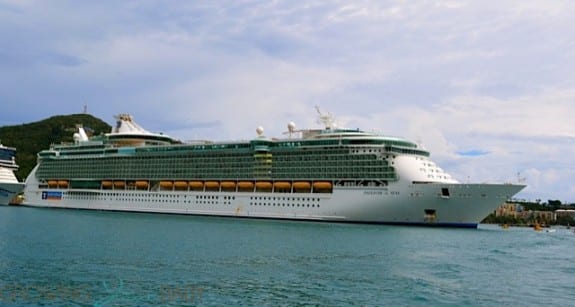 Here are some of our highlights:
My least favorite part of cruising is embarking and disembarking the ship because if you arrive at the dock at the right time, you will be joined by half of the ship.  The cruise line literally has just a few hours to get everyone processed and onboard so there are hundreds of people working to get vacationers through the lines and on the ship.  This was our first cruise, however,  sailing as platinum members and that really was a great perk.  We we able to bypass many of the lines and get right on board in less than 20 minutes.
Cabins are not open until 1pm so we explored the ship for a bit and then grabbed lunch in the Windjammer Cafe.
Navigating the Ship
The number one question friends ask when they hear about how big the ship is, 'Did you get lost trying to get around?' Freedom IS a big ship and it does take some time to remember the front and  back. When Royal revitalized the ship 2 years ago they helped us out by adding Wayfinders.  Easy to use these digital screens are your best friend if you get lost.  You just input your stateroom or which part of the ship you want to go to and it directs you how to get there.  They also tell you the time, the ship's current location and list what activities are currently going on around the ship!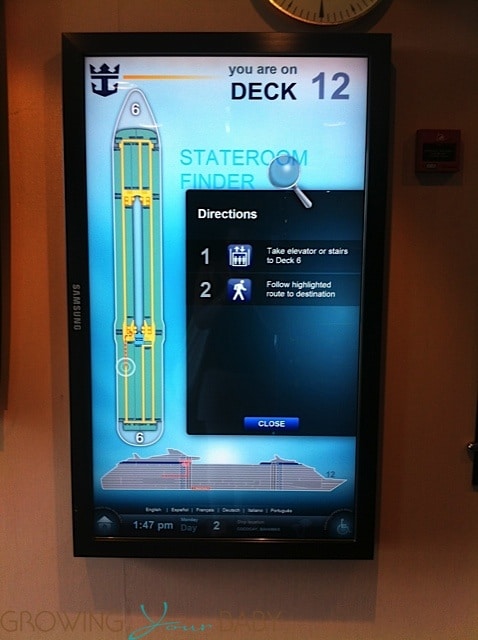 Our Cabin
During our week on Freedom we stayed in a Superior Outside Balcony cabin that was located on the 6th floor.  When we arrived our room was set up for the Barbie Premium Experience with a Barbie magnet on the door, organza sash on the chair, a satin pillow case, fluffy blanket, and quite a few cute accessories like a new Barbie, a change of outfits and a case that was equipped with a Barbie toothbrush and toothpaste.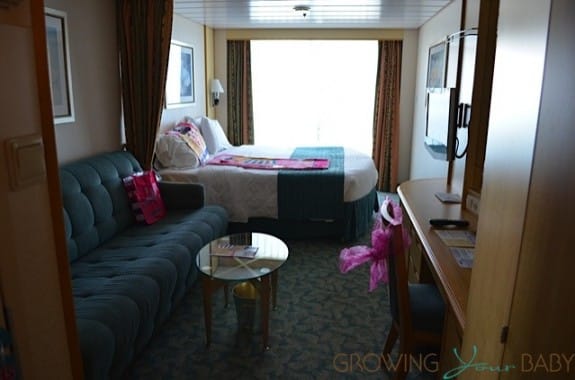 I have a Barbie boy and he was THRILLED!  All of these items would only be in your room if you had pre-booked this special experience before you arrived.  This is just the beginning of the Barbie Experience, which we have covered more in depth here.
Aside from this we had a row of cupboards for hanging your clothes in the right side of the room and the entrance to the bathroom on the left.  Just past the cupboard was the long desk that had 9 storage drawers, a large mirror, a stocked bar fridge and a pivoting flat screen television.  The couch, which the stateroom attendant would convert into a second bed for us at night, sits on the opposite wall.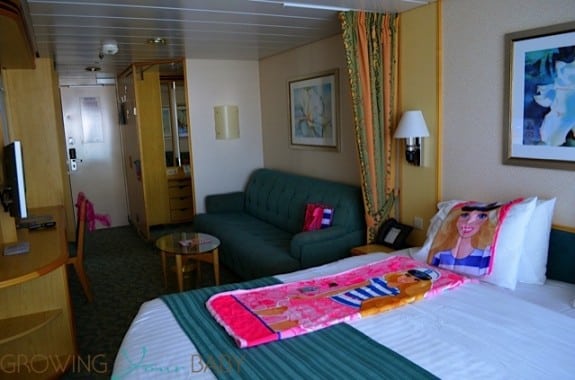 At the back of the room there was a king size bed with night tables on either side for storage and the entrance to the balcony.  To give us more walking room we moved the coffee table to the other side of the bed(close to the window).  This opened the space up and also gave us a spot to perch one of our suitcases.
For years we cruised without a balcony but could never go back now.  We love relaxing out there at all times of the day watching the boat come into port or just looking out into the open sea.   Our cabin(6672) was on the port side of the ship and our balcony faced the dock at both ports, which we liked.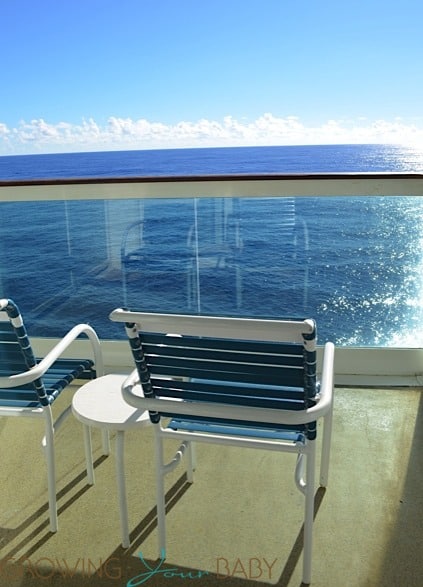 The bathroom is compact, but efficient.  It has a rounded shower with a retractable/removable head to accommodate even the smallest cruisers.   My boys loved showering in the 'capsule'(as they called it).  For them it wasn't as big and daunting as ours at home, which made them more comfortable.  For your convenience Royal provides shampoo and a bar of soap.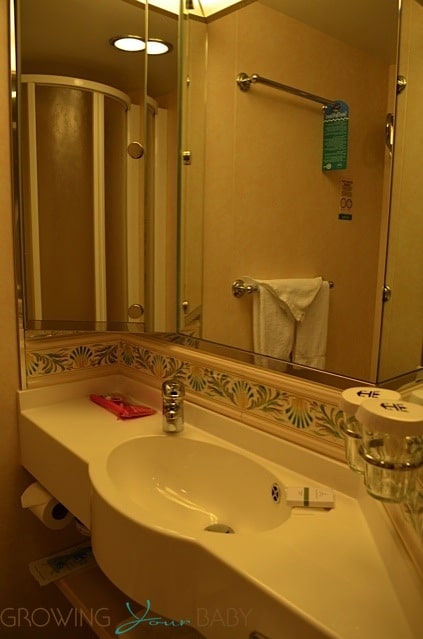 There is not, however, a regular electrical outlet in the bathroom so you have to shave, curl your hair or dry your hair at the desk.  But don't worry about bringing one.  The top storage drawer conveniently has a hair dryer in it that is already plugged in and ready to go.
I should also mention that our cabin was at the back of the ship, a location I highly recommend because you are essentially in line with the Windjammer, all three restaurants, the kids pool area and Adventure Ocean.  We visited these locations many times per day so it was very convenient for us to just take the stairs or elevator as opposed to having to walk to the opposite end of the ship and then go up or down.  Worth noting that the Arcadia Theater, Solarium Pool and Spa/Fitness Center are at the front.
Fun in the sun!
If you are looking to hang out by the pool on your day at sea Freedom has a lot of choices for you.  By far, the most lively area is the main pool area, which is located in the middle of the ship.  Here you can chose to swim in either of the two pools or relax in one of the three massive hot tubs.  Royal has also included two bars and a stadium seating setup that offers a lot of lounging space for cruisers.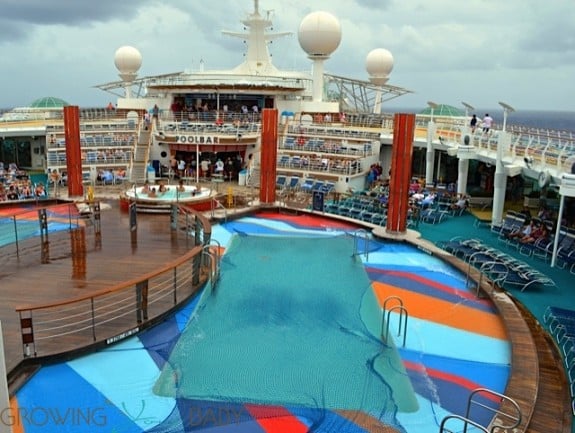 This pool is popular because it is heated and it is also where all the outdoor entertainment takes place in the middle of the day.
Our favorite is the belly flop contest(below), but they have the World's Sexiest Man Contest, Ice Carving demonstrations and line dancing classes as well.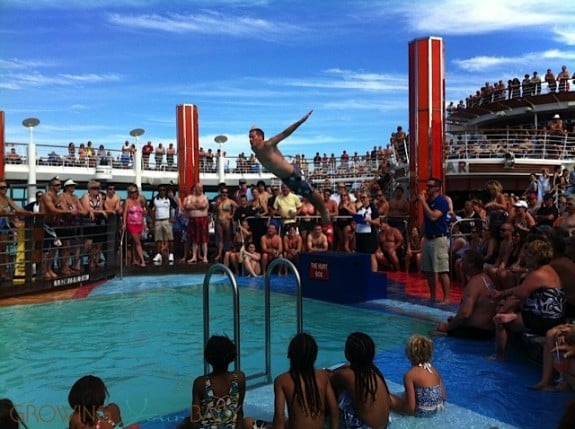 Aside from cooling off in the pool, cruisers can check out a movie or Football on Sunday on the large screen positioned high above the deck.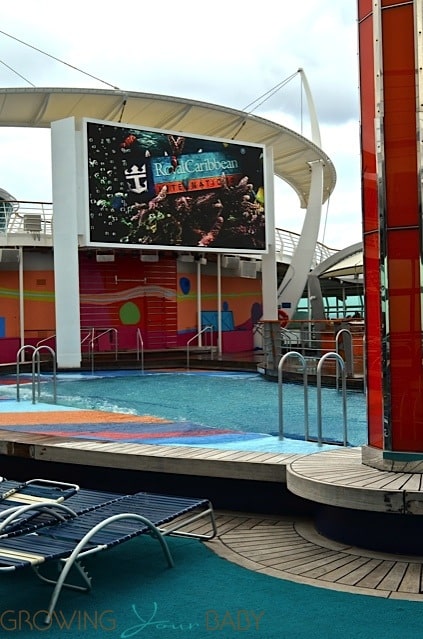 Closer to the front of the ship the adults only solarium pool has a more luxurious feel to it.  The loungers are made from stainless steel and they have comfy cushions to relax on.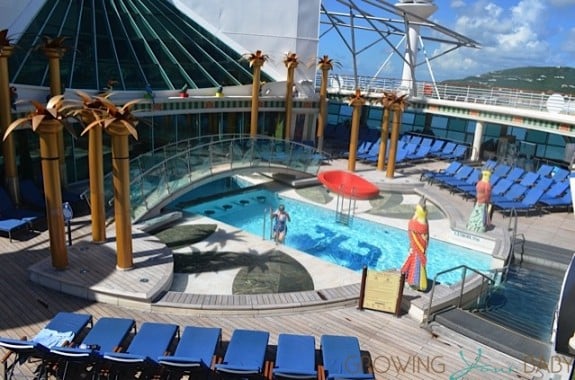 Adorned with golden palm trees and tropical birds, this area also has it's own bar and is home to the ship's two cantilevered whirlpools.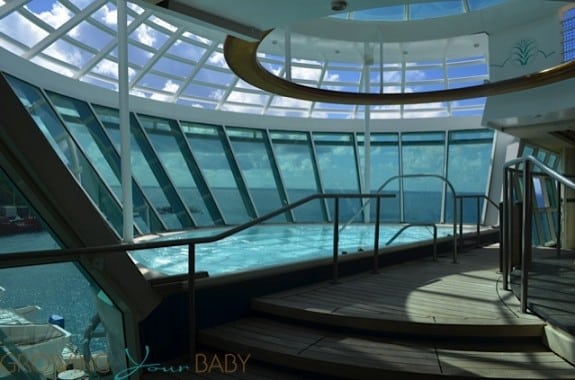 The kid's pool area at the back of the ship is a wide open space that is jazzed up by 15 colorful Britto statues.  Many of these unique figures also double as sprayers to cool little ones(and big ones) down on a hot day.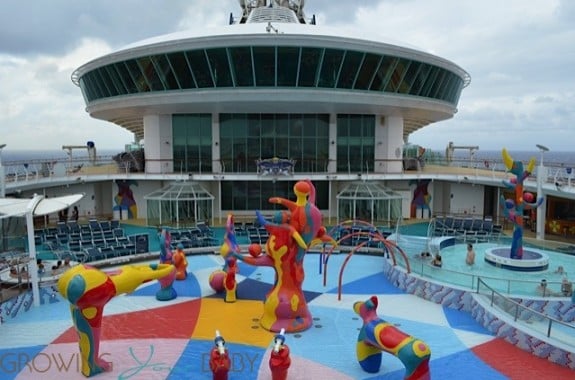 This area also has a pool with a waterfall, a baby splash area, two hot tubs and a current pool.  Located conveniently outside of the windjammer, this section of the ship is in close proximity to the ice cream machine, squeezers juice bar and the surf shop.
One of the hottest spots on the ship is the Flowrider.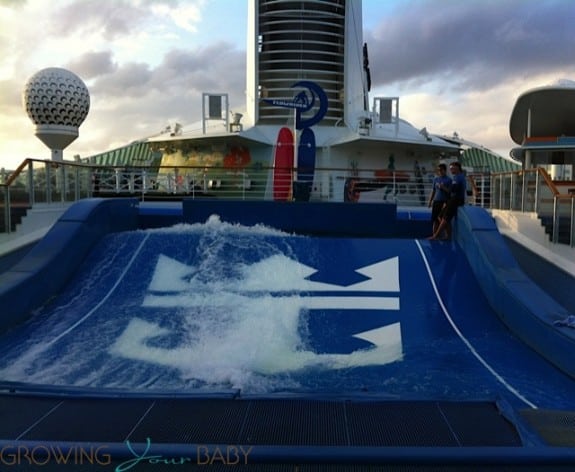 This incredible surf simulator moves water in a circular motion at 35-40mph to give boarders the feeling of being in the ocean, while on land, or in this case while sailing high above the sea!  Kids looking to use the flowrider will have to be 52″ to boogie board and 58″ to actually surf. On busy days the ride surface is divided in two to accommodate two sets of surfers. Want it all to yourself?  Royal offers private lessons for $60/hour starting at 5pm to midnight on most days. With the help of a professional, you can master the waves without having to worry about other cruisers waiting for their turn.
A nine hole golf course sits just to the left of the flowrider and a basketball court just a short stroll from that.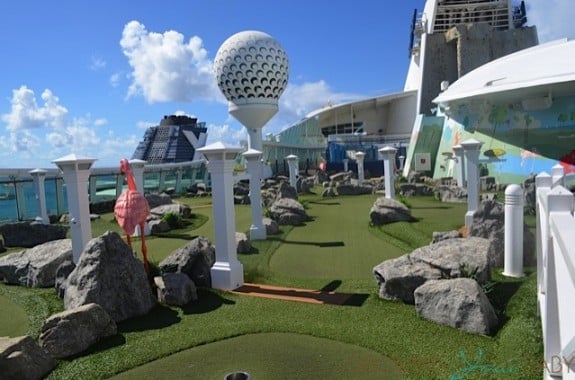 Our favorite spot on the sports deck, however, was the rock climbing wall.  My guy had asked all week to try it and he finally saddled up during our last day at sea.  Small, he did the beginner course and went a little further each try.  Finally, with some encouragement from one of the girls working the belay, he climbed 43 feet all the way to the top and was able to ring the bell. What made it better was that she gave him a medal!   This was definitely a highlight for him.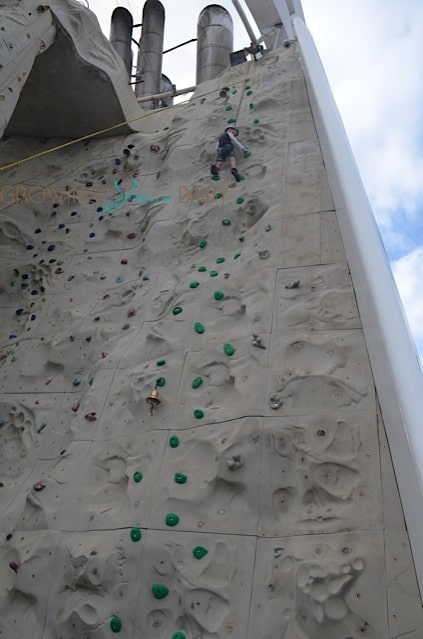 Royal Promenade
The Royal Promenade is the life of the ship and also home to the Cupcake Bar, Cafe, The Romero Britto Gallery, Swimsuit shop, Vintages Wine Bar, Bull & Bear Pub, Sorrentos Pizzaria, luxury handbags, Royal Merchandise and Ben & Jerry's ice cream shop.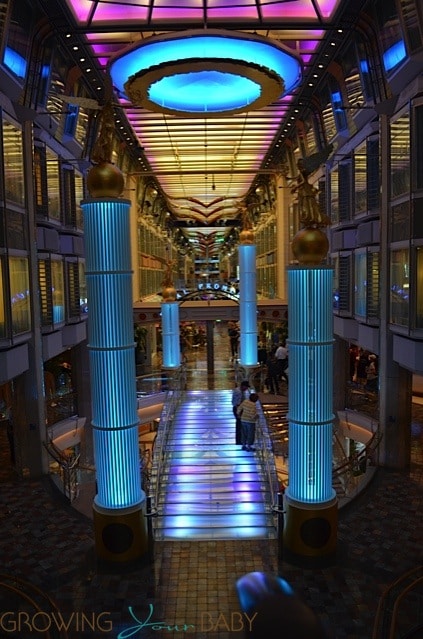 Three stories high, the promenade hosts special events and evening performances.  Equipped with full club lighting, disco balls, a dj booth and a platform that comes down from the sky, this massive space rocks and rolls most nights(and some afternoons!).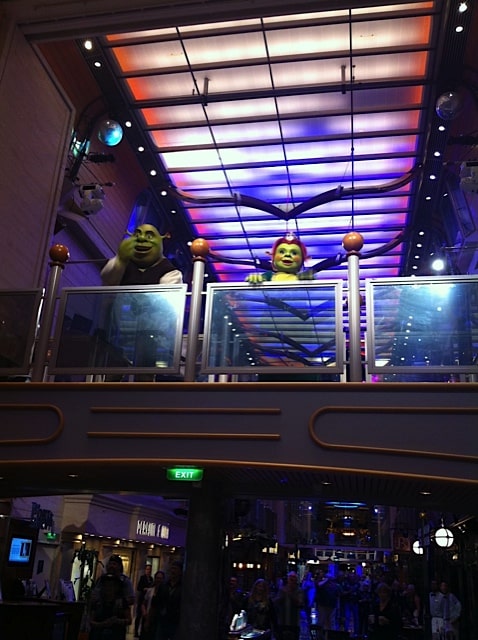 If you book a promenade view cabin your room will overlook all the action.  There are also tables set up along the street so you can enjoy some coffee or pizza and people watch if you prefer.  We like to come down at night after dinner and peruse the daily sales.  Here you can find some great deals on many items including watches, cameras, cuff links, necklaces and other various baubles. But if you want more there is likely a store on board that sells it.
The Royal Caribbean shop has a large variety of branded gear for enthusiasts. Hats, sweaters, mugs, carry on suitcases and even replicas of the ship. Kids items include beach toys, ship sets, a variety of stuffed animals and even some costume jewelry. On the other side of the store women can pick up a new beach cover, new sandals, a fancy evening dress or beach tote.
The general store stocks everything you may have forgotten. Sunscreen, shavers, shampoo, tweezers, wipes, swimmies, and even children's Tylenol.  It is worth noting that diapers aren't stocked here.  (You can, however, take advantage of Royal's Babies 2 go! program that lets you pre-order Huggies® diapers, wipes and cream, and Gerber® organic baby food to be delivered right to your stateroom, when you arrive and throughout your cruise.) The other side of the store is filled with all of your favorite spirits at great prices.
Looking to buy something special while you are at sea?  The jewelry store has a huge spread of fine jewelry and watches. Everything from Fossil to Movado, Hag Heuer, Tissot, Lamborghini and Invicta.  If you are concerned that you may find the item at a better price elsewhere they offer a one month price match guarantee for all outside retailers on the islands or your hometown!
If you are a Romero Britto fan your heart will explode when you step inside the gallery on board. They sell everything from teacups,  iPhone covers, paper weights, umbrellas, Luggage, totes and even the exclusive bear that was made just for Royal Caribbean. There is also a large selection of limited edition pieces, including one that is just 1 of 160 globally.  It is hard to walk by the Britto boutique and not pick something up. The pattern is so vibrant and addicting I just wanted to buy everything.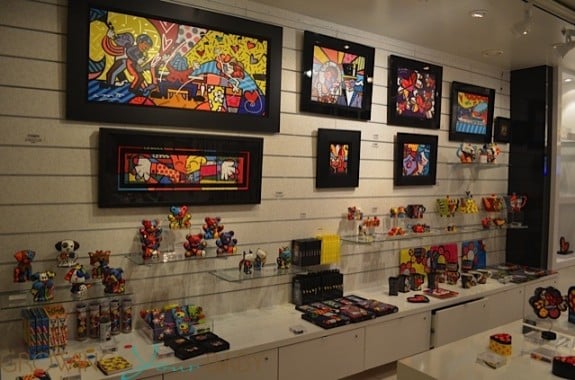 When the ship was revitalized in March of 2011, Royal added the Cupcake Cupboard, the Britto boutique and Vintages was re-furbished and updated with the new enomatic wine tasting system.
Entertainment
One of the highlights of this year's trip was getting to see some of the shows!  Thank you Adventure Ocean.  During our week on board we saw the ice show – freedomice.com, the magic show(Now You See It), Marquee, Once Upon a Time and the Dreamworks parade.  This is our third Royal ship with an ice skating rink and the first time we have actually seen the performance – and it was worth the wait.  We took the boys and they were fascinated by the flips, tricks and high energy show!
For the Now You See it show, Drew Thomas, who appeared as a finalist on America's Got Talent,  shows some of the magic tricks that made him famous.  Pretty dancers, lots of onstage antics and, of course, a lot of illusion, this is a great show for cruisers of all ages.
Once Upon a Time mixes current music with famous fairy tales.  The sets were very well done, as was the choreography and vocal numbers.  This was a favorite for us!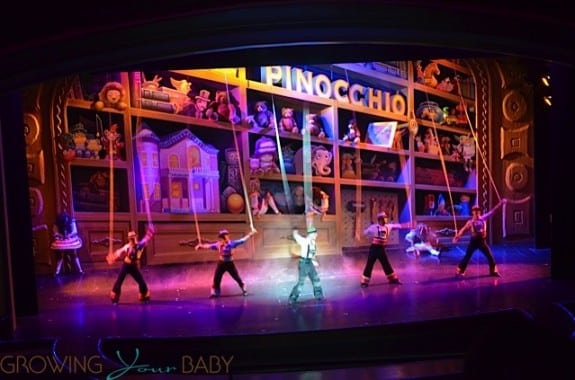 During our cruise there were also 3D movie showings in the Arcadia Theater for Dreamworks' Box Office Hits Turbo and the Croods, as well as Man of Steel and Iron Man.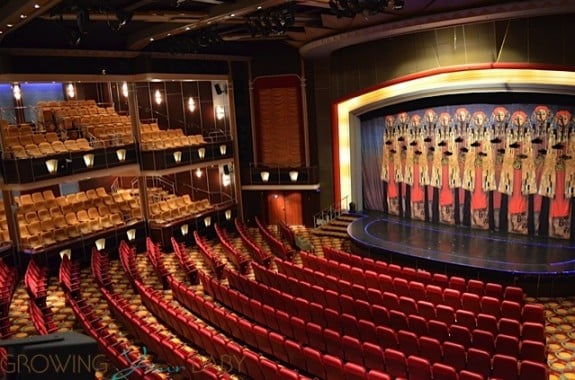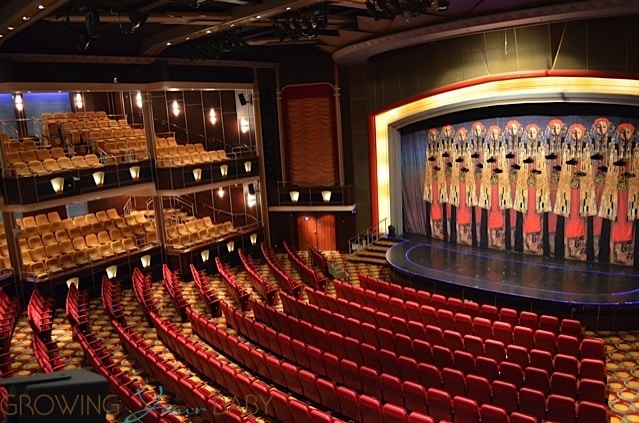 Aside from the shows, Freedom also has a karaoke bar,  a large number of lounges, a 2 level nightclub called the Crypt and a champagne bar.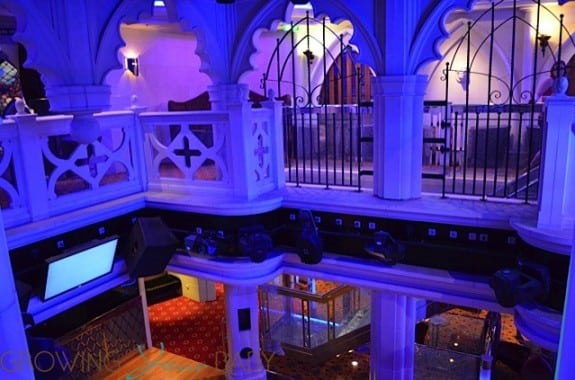 Relaxation
Cruising can sometimes be a little hectic – especially if you are doing it with kids…  The spa offers vacationers every treatment under the sun.  Get a massage, have your hair done, nails polished, teeth whitened, cellulite reduced or your body wrapped and scrubbed.  There are so many options here you could easily visit the spa every day.  And if you want to watch your cruise compass for specials.  There tends to be more offers when the ship is in port, but they do have some great promos on sea days as well.
The fitness center on Freedom is a massive facility complete with a full size boxing ring.  Located at the front of the ship on deck 11, cruisers can jog off that extra lobster tail while enjoying the same views as the captain.  And don't worry about not being able to get a machine, I counted 19 treadmills lined across the front and more than 15 stationary bikes set up for a spinning class.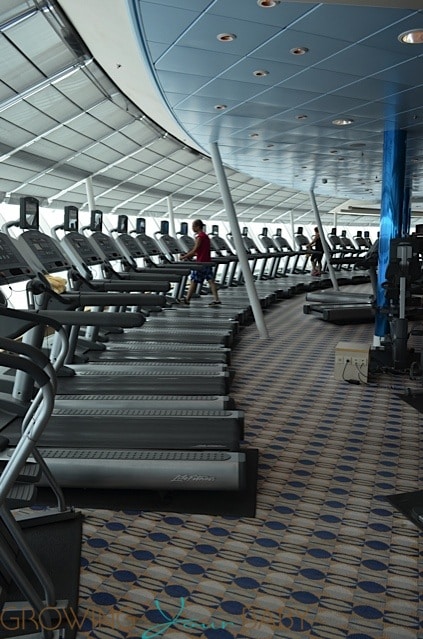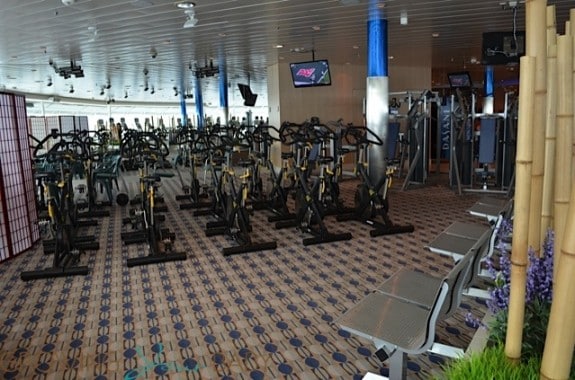 That is just a small example of what is available.  Whatever your regime is at home, you will likely be able to continue it here.
Overlook the Action!
The highest lookout point on the ship is the Viking Crown Lounge on deck 14.  A signature space on all Royal ships, this glass enclosed club is a great place to take in all the action below during the day and have a martini while listening to some jazz music at night!
Not looking to party?  There are two card/game rooms on the port side of the ship with awesome views of the ocean.
Our time on board Freedom of the Seas was truly incredible and there was rarely a moment that my boys weren't headed somewhere. We were scheduled to visit Cayo Coco, St. Thomas and St. Maarten, but our first port was cancelled due to bad weather.  This gave us an extra day to enjoy the ship's amenities and take it easy by the pool.  I highly recommend this ship for vacationers of any age.  There is SO much to do from yoga, bingo, trivia, karaoke, health seminars and even scavenger hunts.
Because there are so many family friendly activities, we wrote a dedicated post here to highlight those.
Tips:
Bring a watch – our boat changed times zones a couple of times and I was thankful I had a watch that was set to the ship's time because that is the timing the schedule runs on and my phone switched over, which caused quite a bit of confusion.
Bring a nightlight – Regardless if you are staying in an inside cabin or a balcony, the cabins get very dark at night and my kids were a little scared to go to the bathroom at 2am so this time we brought a nightlight that we kept under the desk to illuminate a portion of the room.
Bring a re-usable water bottle – While this seems like common sense, it is something I wished we had done in the past because water off the ship can be expensive or untrustworthy.  If you fill a couple bottles and throw them in your back pack before you disembark you will always have fresh clean water with you. This is especially important when you are travelling with kids.
Read your Cruise Compass – I kept mine in my purse so that we would always had a resource if we were looking for something to do at a certain time.  The cruise line packs SO many activities into each day it is very hard to keep them all straight.  I'm a bit of a keener so I would look it over the night before and we would circle the activities we didn't want to miss.  Ie. the Belly flop contest!
---
[ad]