Parents-to-be Kim Kardashian and Kanye West were photographed touring Brazil and posing in front of the Rio de Janeiro's famous statue – Christ the Redeemer on Saturday(February 9).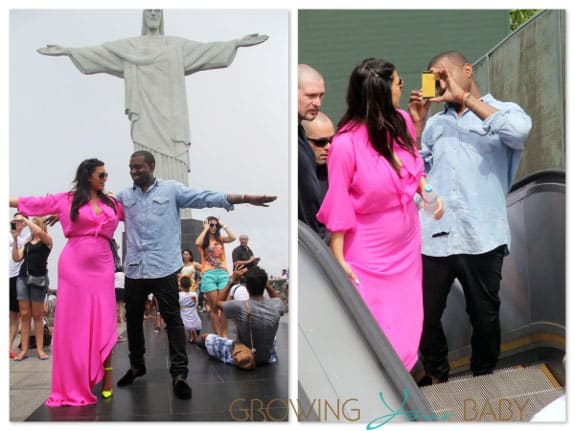 For their day out Kim wore a hot pink dress that showed off her growing belly and a pair of neon yellow Louboutins pumps.
As they made their way through the city Kanye snapped photos of Kim and the sights on a gold iPhone.
Due in July, the reality star has been in court quite a bit lately trying to persuade the judge to grant her a divorce for Kris Humphries.  The pair, who were famously married for 72 days, have been locked on how to proceed with their separation for more than a year.  The issue?  She wants a divorce and he wants an annulment.  A source told People.com
"Kris only wants an annulment.  He never wanted to be married more than once and he feels like she cheated him out of the chance to have a real, loving marriage."
Kim told the judge that the stress from the drawn out divorce is putting her pregnancy at risk, but Kris doesn't care.
"He feels that even if she's pregnant, she still has to deal with the mess she made," the source says. "He thinks their entire marriage was a fraud, and he's not going to just give up because of the situation."
In papers filed last month in L.A. Superior Court, Kim says,
"There was no fraud on my part.  I wish this issue to be tried immediately so that this false claim can be put to rest and I can move on with my life."
So, for now Kim is taking her mind off the whole situation by flying to Rio to take in Carnival, which begins today and goes until Tuesday.
---
{PACIFIC COAST NEWS}
---
[ad]