Kim Kardashian was photographed leaving a prenatal appointment in Beverly Hills following lunch with her mother Kris Jenner at Chin Chin restaurant in Studio City on Wednesday.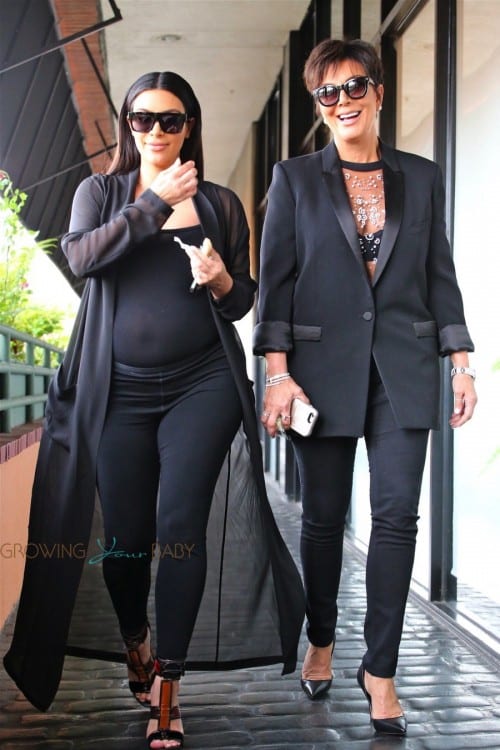 Fresh home from a family trip to St. Barts, the reality star showed off her growing belly in a sheer black top, which was paired with a pair of comfy pants that sat just under her tummy. Kim finished the look with one of her current staples – a long flowing jacket.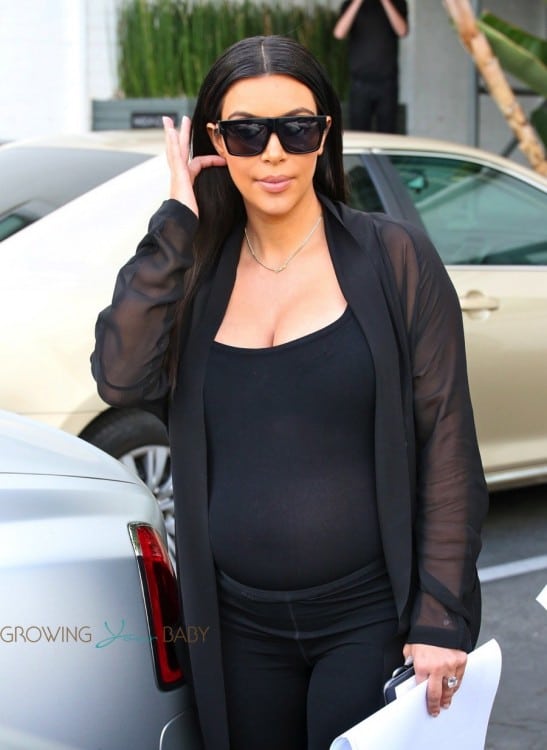 During a recent interview with C Magazine Kim revealed that she had developed placenta accreta again with this pregnancy.  The condition occurs when blood vessels and other parts of the placenta grow too deeply into the uterine wall.
When she was pregnant with North the condition created a hole in her uterus, which made getting pregnant the second time hard.
This could prevent her from having another baby.
"They think I'll have placenta accreta again, so if the placenta grows a little bit deeper than it did last time, then they are prepared to have my uterus removed, which is a little scary for me. I think we're just gonna go day by day, see how overwhelming it is, and see how the delivery goes."
Her style this time around, she says, is much simpler than when she was expecting North.
"The first time I was pregnant, Kanye and I were dating and I was just being introduced to the world of fashion. I wanted to work with a bunch of different stylists, and when you work with a new stylist, everyone wants to possess your look. They wanted me in really outrageous things, and really fashion-y things. It probably wasn't the time to be experimenting. After that, Kanye and I were just like, "Let's do it ourselves." It was mainly him figuring it out; what my look was and what I was comfortable in. So now I've had two years to really come into my own and have my own style. For this pregnancy, I'm definitely more simple. I figured out a formula of what works. And I also feel lucky that as of right now, I don't feel like I'm gonna get preeclampsia again, which last time [contributed to] not only the weight, but also the swelling that everyone would make fun of, not understanding that I had this condition."
{PACIFIC COAST NEWS}
---
[ad]