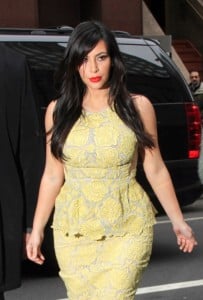 Expecting her first baby with boyfriend Kayne West, Kim Kardashian looks as radiant and stylish as ever, but this unexpected pregnancy is more than just a joy.
"It's kind of a miracle that I even got pregnant," the reality star told Kathie Lee Gifford and Honda on the Today show on Tuesday.
Kim's younger sister, Khloe, has been open and honest about infertility issues that she discovered after three years of trying to conceive with her husband Lamar Odom. Initial tests concluded that she wasn't ovulating. Kim shared that she's also been suffering from fertility issues; she's just been more secretive about it than Khloe.
"Khloe has been very open about her fertility issues and I think I was always really quiet about mine, and I have similar issues," Kim revealed. "It was a pleasant surprise when so many doctors were telling me one thing and the opposite happens."
But now, the 32-year-old is expecting her first baby with nine-month beau, Kayne West. Kayne announced the pregnancy publicly on stage during his concert on December 30th. Kim said she was surprised that he announced the pregnancy that day, she was happy that he did.
"Once you're past the three-month mark, you're pretty safe, so he just kind of goes off with what he feels and he was feeling it that night," Kim said. But she also admits that it's all still a little difficult to digest. "I think until I really start seeing, like, a belly, it won't really sink in. It's just like a weird realization until you really start seeing the physical changes…and every day's different."
So are there wedding bells in the future of the expecting couple? Kim says maybe, but definitely not yet. Not only is she still married to Kris Humphries, who apparently hasn't signed the divorce papers, Kim says she's found that she's experienced some changes in perspective.
"It's something that we talk about, but I think it's just, right now, focusing on the baby," Kim said. "[I'm] so content with how things are right now. And how life is and we're so happy. We definitely want that in the future, but I'm not in a rush. What I've learned in life is – I was always such a planner, and…you think your life is going to be a certain way, and the best surprises just happen when you don't plan."
---
Related Articles:
---
[ad]