Kim Kardashian was photographed leaving 'Barneys New York' in Beverly Hills after doing some afternoon shopping with a friend.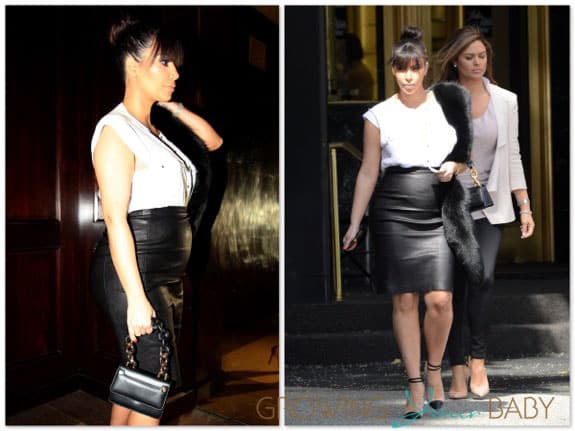 The mom-to-be wore a leather pencil skirt that showed off her growing belly and a white button down blouse.  She accessorized the look with a fur(hopefully faux) stole, a tiny handbag and heels.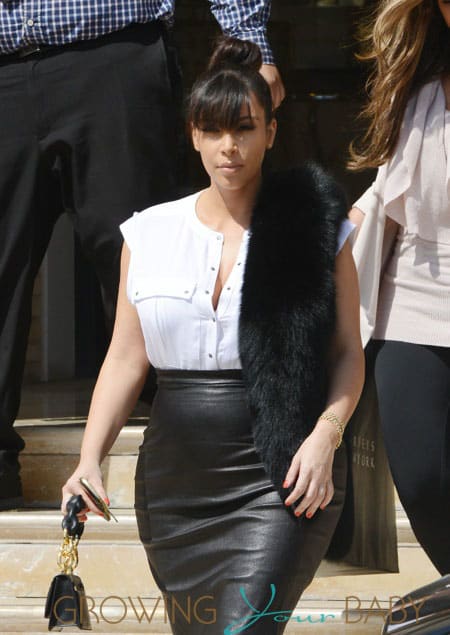 Due in July, Kim has been focused on getting a divorce from her husband of 72 days Kris Humphries before the baby arrives. Scheduled to go to trial in May, Kim was reportedly in the hot seat on Tuesday during her deposition.
"The deposition was long and grueling, and Kris Humphries' attorney, Lee Hutton, was extremely thorough," an inside told RadarOnline.com "Kim was asked what media outlets she talks to, off the record, because Kris believes she has planted negative stories about him in the press."
During a court appearance in February Kim told the judge that the stress from the drawn out divorce is putting her pregnancy at risk, but Kris' attorney wants her to admit that's not true.
"Lee peppered Kim with questions about her relentless travel schedule, including flying to Nigeria and remaining in the African country for less than 24 hours. Kim hopped on a twelve hour plus flight back to Los Angeles. Lee wanted to know specifically what Kim's doctor had told her about pregnancy troubles. Kim admitted that it wasn't just the divorce that caused the scare, but rather her very active lifestyle, which has included numerous promotional appearances that require travel," the insider revealed.
Hopefully for her baby's sake she slows down. A healthy baby is more important than business.
---
{WENN}
---
[ad]