16-month-old Freddie Branthwaite has a rare bone marrow condition called severe aplastic anaemia, a disorder that affects just one in 200,000 people. His parents noticed how pale the little boy was following a family trip to Greece, and were concerned by the tiny purple spots on his skin. A doctor visit with blood tests and a bone marrow biopsy confirmed the devastating diagnosis in September.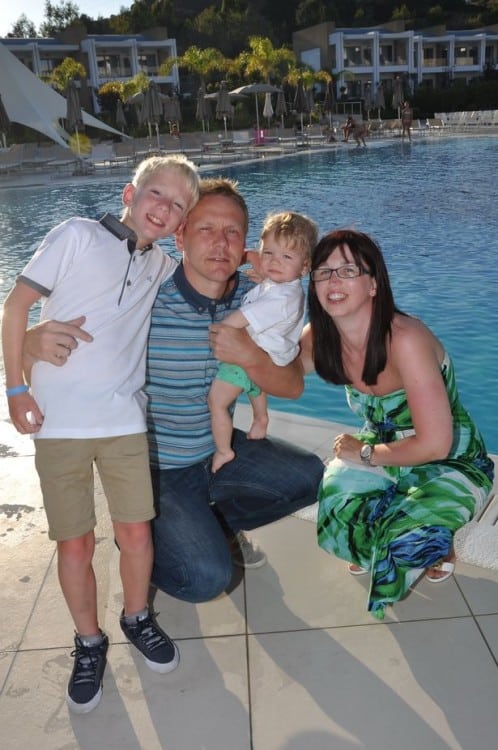 For people with this disease, the body's bone marrow fails and stops producing white blood cells, leaving the person highly susceptible to infections. The best hope is a bone marrow transplant and most look to find a suitable donor in their immediate family. Unfortunately, there was no good match for Freddie…including his 11-year-old brother Harry. In the interim, Freddie has been receiving regular blood transfusions.
Stem cell donation procedures are surrounded by myth, according to Ann O'Leary, head of register development for blood cancer charity Anthony Nolan. O'Leary says that to sign up " all you have to do is fill in a simple online form and provide a saliva sample. Donating is usually done through a simple procedure similar to giving blood."
Now thanks to Anthony Nolan's registry, a suitable match has been found for Freddie – a donor living outside of the UK. Freddie has started initial chemotherapy treatments and is scheduled to receive the anonymous donor's adult bone marrow stem cells during an operation at the Royal Manchester Children's Hospital.
The family is allowed to exchange anonymous letters through the charity with the donor now, and then can meet him or her after two years should both parties agree. Big brother Harry would like that, and is grateful that someone he's never met has taken steps to save his baby brother.  He says "I hope to meet you one day and give you a big hug."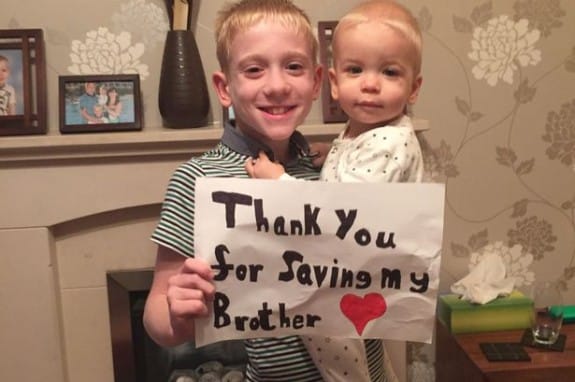 Mom Laura and Freddie's dad Jason are equally grateful, and awed by the kindness of the stranger who might potentially save their son's life through the marrow donation. Knowing that a stranger has given Freddie a second chance at a future has given the Branthwaite family new hope, and a focused purpose. They are working to encourage as many people as possible – particularly those 16 to 30 year old – to register as donors with the Anthony Nolan charity.
---
[ad]