After spending Easter with her family in Los Angeles Kourtney Kardashian flew across the country to attend the launch of Nokia's new phone –  the Lumina 900 at Bryant Park in New York City on Monday.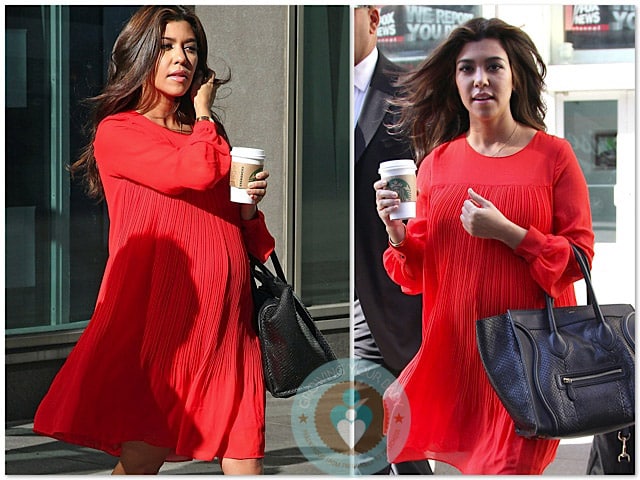 The reality star, who expects her second child this Summer, looked beautiful is a red knee length pleated dress.
While at the event Kourtney told People.com she has had a few new challenges this time around.
"I feel really good … [though] this time I had a little more morning sickness. I think it's a little bit harder being pregnant when you have a toddler [son Mason, 2] I'm chasing after. Last time I could nap more."
She also has to keep him busy.
"We go on walks all the time. Pushing the stroller is like carrying all these weights, and then [there's] the extra weight on my stomach, so it's good. It's fun."

Still, she says: "Last time I felt amazing the whole [pregnancy], and this time too. I feel really lucky."
Kourtney and her partner Scott Disick are also still trying to choose the perfect name for their daughter.
"We always have our little list that I keep in my phone," she says. "I have my little list of names, and I cross it off one day and a new one comes. We definitely don't have the name. We're going back and forth."
---
{PACIFIC COAST NEWS, INFphoto.com, SPLASH}
---
[ad]