For most parents, the transfer from solids consists of slowly adding in a new vegetable choice every couple days.  Root vegetables, carrots, sweet potatoes, and squash are often popular starters followed by fruits apple, pear, banana, plum, peach, apricot and avocado. But as kids get older and they're able to eat a wider range of foods, some of the heartier green vegetables start to get left out leaving a void in a child's palate.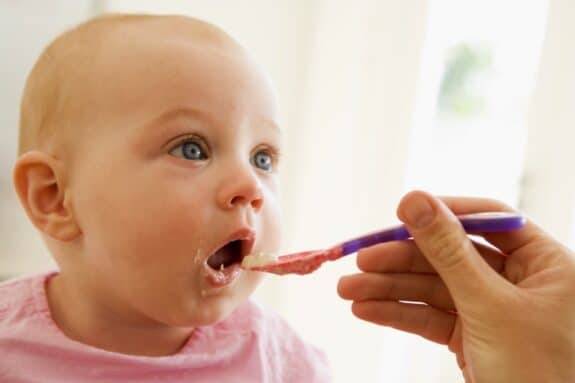 How does this happen?  A new study led by researchers from the University of Colorado School of Medicine on the Anschutz Medical Campus has found there aren't many green leafy babyfoods commerically available for parents to purchase.
"The commercial infant and toddler foods market in the U.S. does not appear to provide caregivers with an adequate type and selection of products to facilitate children's later acceptance of the kinds of vegetables they will encounter and be encouraged to consume once they have transitioned to table foods," Kameron J. Moding, PhD, postdoctoral fellow in the Department of Pediatrics, and her co-authors writes.
The study, which appears online in the current issue of The American Journal of Clinical Nutrition is the first study to examine the prevalence and types of vegetables in infant and toddler food manufactured and sold in the United States. The researchers compiled a database of 548 infant and toddler foods sold by more than 20 U.S. companies.
Of those 548 foods in the database, only 52 were single-vegetable products and none of those were dark green vegetables or beans/peas.
Additionally, when the baby food had multiple ingredients, fruits were listed as the first ingredient in 37.8 percent and red/orange vegetables were the first ingredient in 23.7 percent of products.  Dark green vegetables were listed first in only 1.1 percent of products.
Because infants are predisposed to accept sweetness, they must learn through repeated experiences to accept the bitterness commonly found in dark green vegetables.  It has been found you have to offer a food up to 10 times before a infant/toddler will take it.
In the U.S. commercial food providers "may not provide caregivers with the variety and specificity of products they need to adequately expose their infants and toddlers to vegetable flavors."
To combat this the team recommended commercial baby food companies develop and expand the commercial availability of infant and toddler vegetable products. What is more shocking is that previous national studies have found that about 30 percent of infants and toddlers do not consume any vegetable on a given day. Some go days without eating any.  Having a wider variety of commercially prepared products could help children learn to like these flavors and increase these stats.