In the US, the guidelines for breastfeeding mothers is to continue for at least the first year of their child's life. A new report, however, shows that only 22 percent of mothers are actually meeting this goal.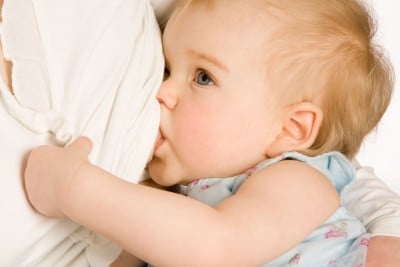 Breastfeeding gets a good start from mothers in the US. Around 75 percent of mothers begin breastfeeding their infants after birth. That number, however, drops drastically the older the baby becomes. By 6 months, only 43 percent of mothers are still breastfeeding. At one year, that drops to 22 percent. This is a huge drop off in the course of one year, and leaves many experts racing to find out why.
The American Academy of Pediatrics (AAP) recommends exclusive breastfeeding for 6 months and continued breastfeeding for 12 months. The World Health Organization (WHO) has at least 2 years of breastfeeding. For most women in the US, this number is not being met.
The reasons are many. Short maternity leave, little workplace support, myths about breastfeeding, and a lack of educated officials that understand what breastfeeding mothers need can all create "Booby Traps" that prevent a woman from breastfeeding fully.
"We need to direct even more effort toward making sure mothers have the support they need in hospitals, workplaces, and communities to continue breastfeeding beyond the first few days of life, so they can make it to those six and 12-month marks," Dr. William Dietz, director of CDC's Division of Nutrition, Physical Activity, and Obesity, said in a statement.
The AAP estimates that breastfeeding could lower the US annual health costs by $3.6 billion. Breastfeeding reduces a child's chances of obesity, diabetes, and illness. It also reduces a mother's risk of diabetes and some cancers. The more women breastfeed for full term, the healthier everyone can become. – Summer, staff writer
Related Articles: