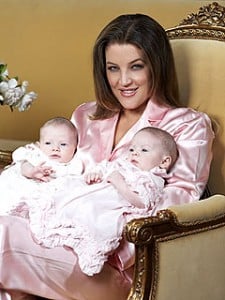 A ex-nanny for Lisa Marie Presley has filed a lawsuit against her, claiming she's been overworked caring for the rock star's twin babies.
Christine White says she became the primary caregiver for the children several weeks after Lisa gave birth to Finley and Harper in October last year.
The nanny claims she wasn't given breaks for meals, and was forced to work seven days a week without overtime pay.
She says she didn't even get 10 minute breaks during her workdays.
Lisa Marie shot back calling the claims ridiculous. and says she paid White . She said the nanny, who was paid $650 a day, had her own guest house on the property where she would sleep and take "many breaks."
Presley gave birth to the twins at the age of 40 — after two years of trying to get pregnant.
PHOTOCREDIT:John Russo via PEOPLE
---
[ad]