With the holiday season upon us, and cold weather keeping kids indoors, there's nothing better than whipping up a batch of homemade baked goods to make the house smell sweet and as a special, heartwarming treat! Better yet, cart the kids off to grandma's house while you finish your last minute holiday shopping — and send them packing with Child to Cherish's adorable 'Little Baker Suitcase' which is filled with everything they need to bake up batches of fun!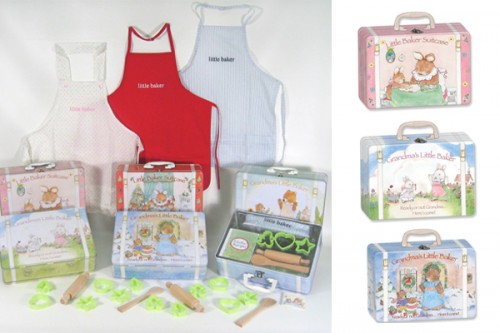 The latest offering in the Little Baker collection features precious animal designs of little bears, mice and bunnies alongside their grandmas, with the text: "Ready or not Grandma… Here I come!" Each tin suitcase measures 11.25 x 8 x 3.5 inches and they're fully stocked with all the accouterments a novice baker needs to be a big helper in the kitchen: apron, wooden rolling pin and spoon, cookie cutters and 5 delectable cookie recipes — Sugar, Chocolate Chip, Peanut Butter, Gingerbread and Snickerdoodle cookies!
These savvy suitcases may be cherished as keepsake boxes for years to come and young children may also use them as lunch boxes. They are available in either the Little Baker series with three designs: boy, girl or Christmas, or as the Grandma Little Baker series with the same three design offerings.
Visit childtocherish.com for more information
---