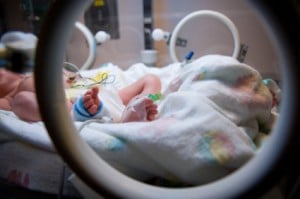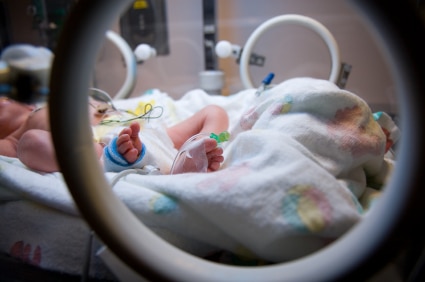 Last summer's listeria outbreak in cantaloupe sickened a total of 146 people; 30 of those sickened died from the illness. One woman miscarried and three other newborns were diagnosed with listeria after birth; little Kendall Paciorek was one of them.
Weeks before Kendall's birth, 41-year-old Michelle Wakley-Paciorek suffered from fever, chills, muscle aches and headaches, but she didn't seem to be exceptionally ill. Then one day, while receiving a pedicure, she starting having contractions.
"I couldn't even believe I was in labor," Michelle said.
Doctors administered drugs to try and stop the delivery, but Kendall was born just hours later on September 21st; just one week after the FDA recalled the tainted cantaloupe crop from Jensen Farms. She weighed in at just 3 pounds, 11 ounces.  She was so tiny and ill that doctors feared for her life.
It wasn't until after blood tests were performed on both momand baby that the devastating truth was discovered – little Kendall and her mother were both infected with listeria, which was later traced back to the recently recalled cantaloupe.
"We're thinking I ate cantaloupe sometime in the first three to four weeks of August," said Michelle. "I ate it probably multiple times. You try to eat better because you're pregnant."
According to the FDA, the tainted cantaloupe was due to dirty equipment, poor storage practices and faulty sanitation at the Colorado farm where the cantaloupe came from.  For Michelle and her family, it is a great source of frustration knowing that her daughter's life had been in danger and her entire future may be affected by such negligence.
"It's reckless. It's something that could have been prevented. No one should have to go through this," Michelle stated.
Since her birth, Kendall's family has spent countless hours at the hospital and in the doctor's office. Kendall spent several weeks in an incubator, just trying to fight the infection. And while she is growing, gaining weight and doing better than expected, the future of little Kendall is still so uncertain.
"You almost panic because they tell you about all kinds of learning disabilities and other problems," Michelle stated. "It's been like an emotional roller-coaster."
Along with the uncertainty of Kendall's future comes the uncertainty of whether or not Michelle will be able to return to work or if her husband, 41-year-old FedEx senior manager Dave Paciorek, will become the family's sole source of income.
The family hopes that the Seattle food safety lawyer Bill Marler can help with the financial issues that may lay ahead for Kendall and her family. Marler is helping the family file a private lawsuit against the Jensen farms to help ensure that Kendall is able to receive the care that she needs.
But for now, Kendall's family is celebrating her homecoming – just in time for Christmas. Kendall's big sister, 4-year-old Madison, helps with Kendall's bottles. And when Kendall is too exhausted for the bottle, big sister helps with the feeding tube. Kendall can sleep in her own bed and the family will celebrate Christmas, together, in their own home.
Related Articles:
---
[ad]