I was on the fence on whether or not I was going to post this photo.
I would like to say that it is an invasion of privacy to be photographed breastfeeding your child, but Maggie and Ramona are, in fact, out for lunch with friends on a patio in NYC.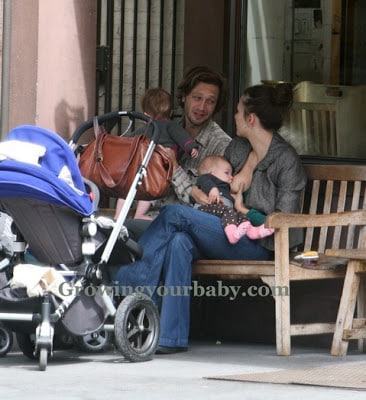 So…I guess it's fair to say that she knows that she is fulfilling a basic need for her baby and that anyone who can't handle a little nursing in the afternoon should just look away…
I love that she is comfortable enough with her friends to breastfeed while everyone is enjoying a nice day on the patio. Chances are that the moms who she spends time with also breastfeed openly and this is just something that is acceptable in her group.
PHOTOCREDIT:INF
PHOTO PURCHASED FOR EXCLUSIVE USE ON GROWING YOUR BABY
---
[ad]