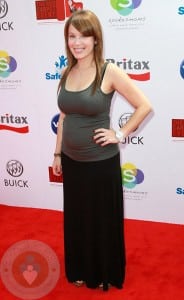 Exciting news for actress Marla Sokoloff and husband Alec Puro! The couple welcomed their first child – a baby girl earlier this week in LA.
Elliotte Anne Puro arrived at 8:05 p.m. Wednesday, Feb. 8 weighing a healthy 7 lbs.
"Mom, dad and baby are happy as can be and completely in love with each other," the new mom told People.
Just before baby Elliotte arrived Marla blogged at the online magazine that the last nine months were very memorable.
"Yes, there were weeks that seemed endless and yes, I'm currently complaining about my feet swelling up like balloons and the general discomfort that comes with the end of pregnancy — but all in all the journey has been one that I will never forget."
And while there were no details about the delivery Marla told Celebrity Baby Scoop that she was realistic about the birth plan.
My birth plan is simply getting her out safely! I'm not one of those pregnant women who have a 40-page birth plan ready to go. One of my best friends had it all planned out then wound up having an emergency C-section, so you really never know. I'm really trying to go with the flow the best I can in every capacity of pregnancy. Not to say I'm being flippant about the process – I've definitely thought about it and educated myself on labor and delivery. I trust my doctor 100% so that is also giving me the confidence to take this on without added anxiety. I plan on delivering in the hospital and would LOVE to tell you that it will be a drug free experience, but I don't think that's in the cards for me.
Congratulations to the pair. We look forward to meeting baby Elliotte!
Related Articles:
{PACIFIC COAST NEWS}
---
[ad]