More than 10,000 people are thought to be dead after typhoon Haiyan, but one little life has just begun. That life, being hailed a little miracle by her mother, Emily Sagalis, has been named after a family member that has yet to be found since the storm.
Emily told GMA News that everyone in her family had been swept away when giant waves surged into the family's Tacloban City home. Their entire home had been carried several meters inland by typhoon Haiyan, which could possibly be the country's worst recorded natural disaster. Emily had been found amidst the debris by her husband, Jobert, but Emily's mother, Beatriz, has yet to be found.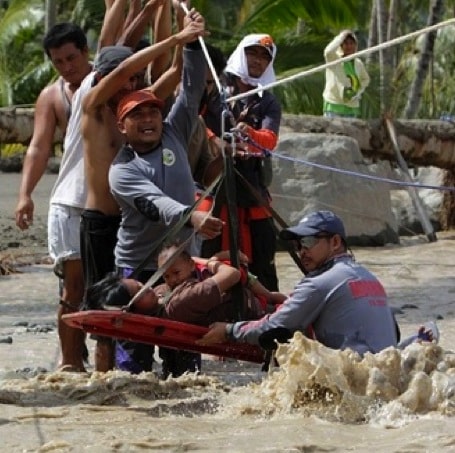 "I had thought I would die with her still inside me when the high waves cane and took us all away," Emily told GMA News.

"We are supposed to be celebrating today, but we are also mourning our dead," Jobert added as he held their baby girl.
Once he'd found his wife, Jobert and Emily took shelter in a school building with other mud-soaked and injured survivors. They lived off of the bottles of water found within the typhoon's debris, but Jobert knew that his wife would deliver soon, and they would eventually need help.
"She began labor at 5 a.m. (on Monday) so we had to walk several kilometers before a truck driver hitched us a ride," Jobert said.
Thankfully, the couple did find the help they needed – at least what little help was available. The entire community has been swept away by the typhoon, but the destroyed airport compound is currently serving as a makeshift medical center. It may be constructed of nothing more than dirty plywood beds on top of dirt, glass and rubble, but it is the place where Emily and Jobert's daughter was born safely.
"She is so beautiful. I will name her Bea Joy in honor of my mother, Beatriz," Emily had whispered right after delivering little Bea. "She is my little miracle."
According to Captain Victoriano Sambale, the young military doctor that had helped deliver little Bea, Emily's waters had already broken when she'd entered the building. Though little Bea will likely be perfectly fine, Emily had developed some bleeding during the delivery. Captain Sambale and those that assisted him had been able to stop the bleeding, but Emily is still at a high risk from infection – not just because of the bleeding, but also because of the unsterile conditions and lack of supplies.
"This is the first time we have delivered a baby here. The baby is fine and we have managed to stop the bleeding of the mother," Captain Sambale told GMA News. "Definitely the mother is still in danger from infection and sepsis (septicemia). So we need to give her intravenous antibiotics. Unfortunately we ran out of even the oral antibiotics yesterday."
I can't even imagine what it must be like in the Philippines right now, but we do hop that Emily, Jobert and little Bea – along with any other survivors that may be on the island – are able to heal both physically and emotionally from this tragic event.
Related Articles:
---
[ad]