I have to say that this has been the year of the Mega Multiples.  We have personally reported on 4 families that were expecting sextuplets just this year, with 2 of the families only getting to bring home a fraction of the babies they were expecting.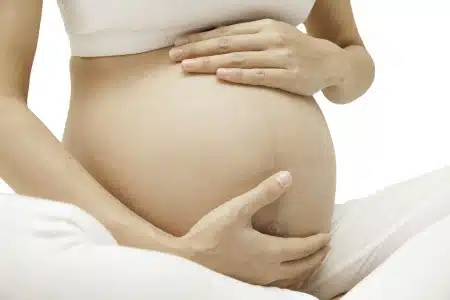 Like many of the other couple that we have covered, Mandi and Eric Jarvis, who live in Excelsior Springs, were having a difficult time conceiving so they turned to injections of Follistim, an ovulation-inducing drug.The chances are highest with Follistim of having a single child or twins, they said.
"We were only truly wanting one," Eric Jarvis said. "Two was OK, too. That's a long way from six." Her first hCG test revealed abnormally high numbers, so her doctor determined she was having multiples. An hCG test measures the amount of the hormone human chorionic gonadotropin in blood or urine to see whether a woman is pregnant.

"He said, 'I bet the barn it's just three,'" Mandi Jarvis said. "He owes me a barn and a farm."

At week four, she saw blood. Terrified, she rushed to the doctor, not knowing if a miscarriage might mean losing one or all of them. A practitioner told her she had indeed lost one but still had two.

At week five, Mandi's mother visited the doctor with her, the only time Eric Jarvis missed. He won't do that again, he said. That's when they found five.
After learning they were having five babies, Mandi applied for a program through the Clay County Public Health Center, that was looking for pregnant "models" to train technicians on performing ultrasounds.
When she called she was told that the women's clinic was full for the free ultrasound screening and even had a waiting list. Once they learned that she was expecting 5 babies they made an exception and brought her in right away.
At the Liberty Women's Clinic, Mandi had her ultrasound at week seven. Martha Howell, a registered diagnostic medical sonographer, was there training the clinic's nurses when they saw a "flutter" at the top of her uterus after finding five."It was an emotional and once-in-a-lifetime experience to be present when the sixth baby was discovered," said Carol Graham, the women's clinic CEO.
Currently in her 18th week, Mandi will be admitted to Overland Park Regional Medical Center at 20 weeks for the remainder of her pregnancy. The average gestation of a sextuplet pregnancy is 29.1 weeks; she would like to make it to 32.
Jenny Masche made it to 32 weeks gestation, while Karoline Byler delivered her sextuplets this September just before 29 weeks. Not all sextuplet pregnancies have happy endings.
Sadly, Brianna Morrison delivered all six of her babies at just 22 weeks gestation and only one of them survived.
We wish this mom well and hope that she gets 10 good weeks in on bedrest.
Related Articles:
---