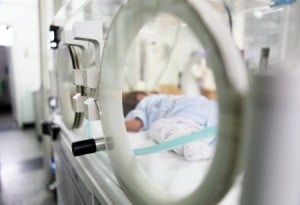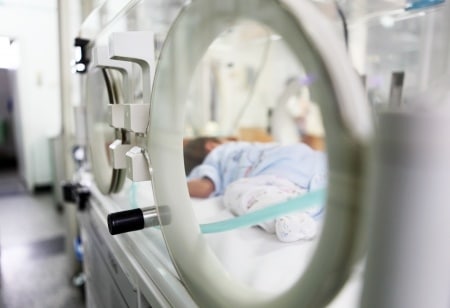 No one sets out to have a premature baby.   But every year almost 500, 000 babies arrive before 37 weeks in the United States.
When Deanna Fei was pregnant with her second child, she started to experience some complications halfway through her second trimester.
On that day her husband was at the airport on his way out-of-town for business, and Deanna was at home with her 1-year-old toddler.  Within 20 minutes of arriving at the hospital, their baby girl was delivered via emergency cesarean, resuscitated, and placed in the neonatal intensive care unit.  Weighing a mere 1lb 9ozs, her skin was 'reddish-purple, bloody and bruised all over.'
The next few months brought many complications for the tiny baby.  Given only a 30% chance of survival, she suffered a brain hemorrhage, her right lung collapsed, and she stopped breathing altogether one morning.
In the three months she was in the NICU she endured many blood transfusions, head ultrasounds, the insertion of breathing tubes, feeding tubes, and a central line extending nearly to her heart.
As many preemie parents know, treatment doesn't end when your baby leaves the hospital, and Deanna has a bill folder 3 inches thick to prove this.  Thankfully for the couple, Deanna's husband works for AOL and they had family health plan coverage through the company.
After all that's why we get insurance.  To cover us when the unexpected happens.
On Thursday when Tim Armstrong, the chief executive officer of AOL, addressed the company during a town hall meeting he noted that a previously proposed lump-sum payout to the employees' 401(k) plans, was in part due to Obamacare and other unexpected health payouts.  He also threw the Fei's under the bus.
"Two things that happened in 2012," Armstrong said. "We had two AOL-ers that had distressed babies that were born that we paid a million dollars each to make sure those babies were OK in general. And those are the things that add up into our benefits cost. So when we had the final decision about what benefits to cut because of the increased healthcare costs, we made the decision, and I made the decision, to basically change the 401(k) plan."
The statement immediately hit the internet, prompting criticism from media outlets and family interest groups. Fellow employees inside the company knew, however, that one of the 'distressed babies' he was referring to was Deanna's husband's daughter.
Mr. Armstrong quickly attempted to set the record straight about his statement, but the damage, and public shaming had been done.
No one sets out to have a premature baby and when it happens it is the scariest, most terrifying thing. This tiny baby is growing inside of you. There is excitement and love, and then without warning you are sitting beside a bed praying for your baby to get through the next hour, day or week.
How dare you blame this helpless baby for ruining everyone's retirement plan Tim Armstrong. Maybe you should start by looking in the mirror, or maybe at they very sweet deal you have in place at AOL. It is reported that in 2012 he made more than $12 million dollars in stocks, bonuses and salary.
"Let's set aside the fact that Armstrong—who took home $12 million in pay in 2012—felt the need to announce a cut in employee benefits on the very day that he touted the best quarterly earnings in years," Deanna wrote on Slate.com. " For me and my husband—who have been genuinely grateful for AOL's benefits, which are actually quite generous—the hardest thing to bear has been the whiff of judgment in Armstrong's statement, as if we selfishly gobbled up an obscenely large slice of the collective health care pie."
Adding,
Our daughter has already overcome more setbacks than most of us have endured in the span of our lives. Having her very existence used as a scapegoat for cutting corporate benefits was one indignity too many.
---
[ad]