Mother Cleidiane Santos dos Santos will need to get more clothes for her newborn son after he arrived weighing 16lbs (7.3kg).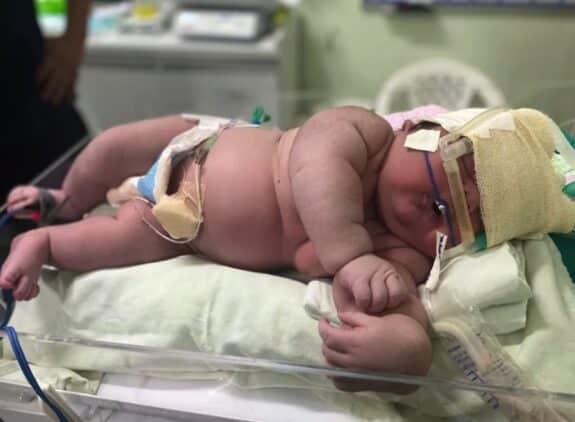 Baby Angerson's arrival was a surprise to many. He was delivered by C-section on Wednesday 18 January at Hospital Padre Colombo in Parintins, Amazonas State measuring 2 feet tall.
Cleidiane was in the hospital for a check-up when doctors realized the unborn baby was too big for her to carry for a full term.
The baby is being kept in an incubator and is in a 'stable' condition. Often babies born this large have underdeveloped lungs so they need to stay in the NICU for observation.
Mom and baby are said to be in good health.
The child sets a new record in the state, last updated in 2011 by a boy weighing 13 lbs and measuring 1.8ft.
Ademilton dos Santos holds the record from his birth in Brazil in 2005 and weighing 17lbs (8kg).
The hospital is looking for clothes and nappies sized for children aged nine months to a year for the newborn to help his parents.