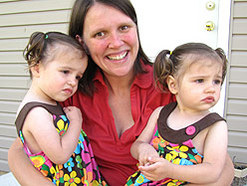 It seems the world is getting blessed with twins more and more, especially to those families who already have twin siblings to give company. Just weeks after Brooklyn mom Gezine Amer gave birth to her third set of twins and Hazel Brown became mother to two set of twins within a year, here is another mother from  Ontario, ready to give birth to her second set of twins.
What makes 35 year old Janine Ferrier's case a little different though is the fact that she will be delivering her second set of identical twins, 2 years after welcoming identical daughters Rebecca and Rachel. The new babies will also join the family's three other children; four-year-old Malachi, six-year-old Lydia and seven-year-old Kaleb.
"Some people call me crazy. I call myself blessed," said Ferrier's."I always wanted to be a mom. Every Halloween, I got to dress up as a mom. I've had a passion for kids all my life and now I'm a mom full-force."

It is believed that the probability of a woman having identical twins when the babies are formed from the same zygote is 3.5 out of 1000 worldwide and there too for the same woman to give birth to identical twins twice is very rare with 1 in 100,000 chances.
Janine whose husband is a pastor of the Elim Bible Chapel in Arkona says that she conceived naturally although they were not planning to extend their family. What is even more surprising is that she just has one fallopian tube.
Says Dr. Jordan Schmidt, an obstetrician at St. Joseph's Health Care London, "I'm not aware of any specific cases of a woman having two sets of monozygotic twins in two different pregnancies in London, but it may well have occurred at some point."
When Janine first went for her ultrasound, she was alone as she thought there were some complications. "When the doctor said there were two, I almost passed out. I just started to cry," Ferrier said.
The news was also a shock to her husband but a thrilling development for the kids.
Now they just consider the babies as a blessing of God. Janine, who home schools her kids, is definitely going to have a life she likes the best-that of a full-time mom.
"I guess it's God's plan. I'm born to be a mom," Ferrier said."It's nice to think that this is unique."
– Atula, Staff Writer
Related Articles:
---
[ad]