In a very powerful photo, six moms, Heather Terranova, Hillary Funk, Kaila Marie, Sara Markivee, Ashley Jones Behrle and Hannah Peltonen posed among clouds of bright powder for Alex Bolen to celebrate their 'rainbow babies.'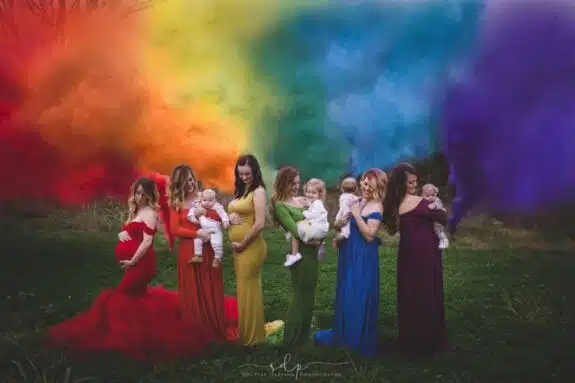 "A rainbow baby is a baby born following loss," The Facebook post said. "These mommas are just 6 out of the millions that experience pregnancy/infant loss every day. Some speak out. Some stay silent. Some have lost many. Some try for months or years. Some meet their sleeping angels. All loved and never forgotten."
Wearing gowns by Sew Trendy Accessories, the moms, and mama-to-be celebrated the blessings they have after a tragic loss.
In the comments section of the post, which has been shared more than 18,000 times, moms tagged each other, shared their rainbow babies, offered encouragement and told their own stories.
Thank you for this," Raychel Hrt wrote. "I've never been able to have my rainbow baby, but somehow this photo gives me comfort."
Alyssa Huffman shared the same sentiment, "Beautiful photo!! I am still waiting for my rainbow baby but I know it will happen when it's right."
Carole Rae Cohee Daigle wrote, "Hello Fellow Rainbow Mommies.!! Thank You So Much for sharing your stories. I KNOW the Unexplainable Heartache of losing you Baby ( or babies). I've lost FOUR Babies. Two before my son was born and two more before my twin girls were born. And I KNOW the Unexplainable Joy and love you feel for your undeniable little Miracles that made it through the journey for us to raise. But you Never , Ever forget. !!! If someone asks me how many children I have, sometimes tell them, I have seven children but Four are Angeles in Heaven. If I don't feel comfortable telling that person I tell them about my three children but I think about the other four in my mind…in my heart ..in my soul. Always.!!! I am soo blessed to be a Mom.!! I would love to share more if someone wants me to. Or be a comfort and give encouraging words of hope. Thank you."
Alex's picture is not only beautiful, but it opened up a conversation that many women don't feel comfortable having.
---