It is a day they will never forget. Kelli Lynne Groves and her two daughters 10 year old Sage and 10-week-old Milo were on Highway 101 in California when a truck smashed their BMW from the rear end. Dangling over the edge of a 100 feet high bridge, the family was stuck for an hour before they could be rescued.

48 year old Charles Allison Jr. was driving a gravel truck on the freeway when he rear ended the BMW. The trucker perished as his truck plunged into a creek below the 100 feet high bridge. But the impact caused Kelli's car to also spin out of control and teeter along the edge of the bridge.
In the creek below, the truck burst into flames as mother and daughter looked on clinging to the life and death situation. Surprisingly, 10 weeks old Milo did not stir from her sleep despite the impact and slept through the ordeal.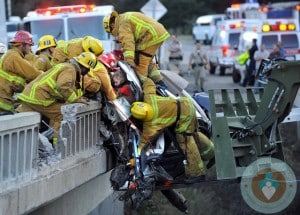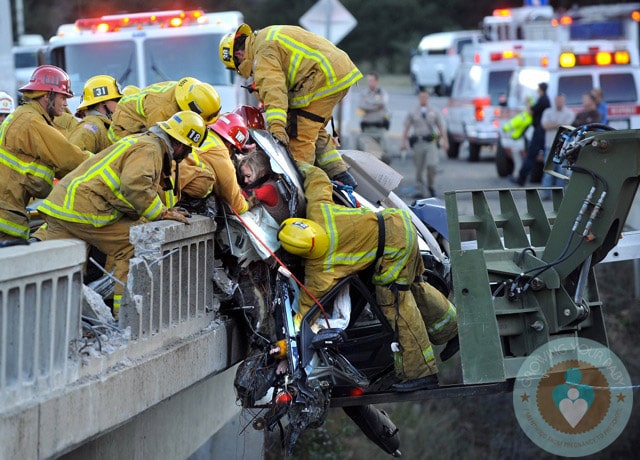 Kelly's car had landed on the centre of the concrete guard rail. The family had to wait for an hour for the rescuers to get to work and take them safely out of the wreckage. Meanwhile, a group of Navy Seabees who were stuck in southbound traffic came to help as soon as they saw the terrible accident.
The Seabees used a forklift they were transporting to lift the BMW and save it from falling off the rail.
Emergency services arrived on the scene soon and began removing the wreckage to finally get to the family. Kelly had placed Milo in a rear facing car seat behind the driver's seat and the firefighters and cops believe it is this safety measure that saved the baby's life who did not even stir while the commotion was on to rescue the family.
The three were taken to the hospital with Kelly and Sage having moderate injuries and Milo with minor wounds.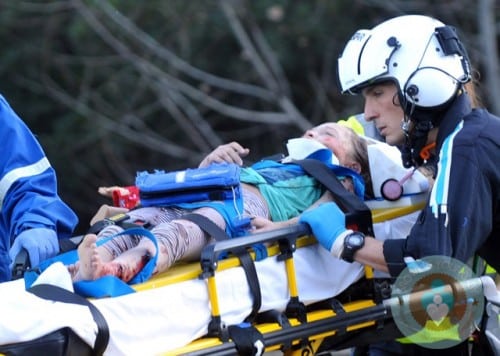 Because of the accident the Route 101 in rural Buellton, about 25 miles north of Santa Barbara was closed in both directions.
Thankfully for the Groves, help was at hand to save them from a fatal disaster.
Related Articles:
---
[ad]