Two out of three of 26-year-old Claire Ormrod's children had been born prematurely. Because of that, she took contraceptives to avoid pregnancy. Of course, she had taken contraceptives with all three of her previous pregnancies, so even despite her best efforts, Claire became pregnant two more times. Those last two births ended up being so close together that her two youngest children will end up being in the same grade when they start school.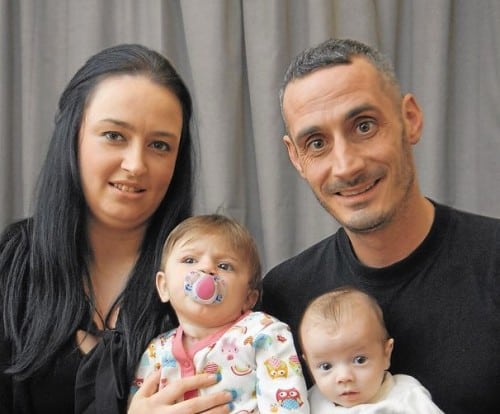 "I was absolutely petrified when I found out I was pregnant again," Claire told Daily Mail UK. All of my children, apart from Molly, have been born progressively early, so I convinced myself I was going to have another very early, premature baby."
Knowing Claire's medical history when it came to pregnancies, Claire's general practitioner was concerned, not just for the life of the baby she was carrying, but also Claire's life. He suggested she terminate.
"My GP said I should have a termination," Claire said. "He said [the pregnancy] would end up killing me and the baby and that it wouldn't be fair to put me through it. But I said no."
So, against her general practitioner's advice, Claire decided to go ahead with the pregnancy. But at just 25 weeks pregnant, Claire's worst fears were confirmed. She had a placental abruption, a condition in which the placenta separates from the uterine wall. If left untreated, the condition can kill both mother and baby.
Born 15 weeks prematurely, little Alice weighed in at just 1 pound, 3 ounces. Claire believed that, had her baby been born just days earlier, at 24 weeks – the legal limit for an abortion – doctors wouldn't have even tried to save her life. But, as fate would have it, they did their very best to give Alice the medical care she needed to survive.
She did, in fact, survive, amazingly enough. But she had some serious medical complications. Little Alice had chronic lung disease, heart and bowel defects, several life-threatening infections and she needed a ventilator just to breathe. At one point, she dropped down to just 9 ounces. Then, at the age of ten months, she went into liver failure, suffered from six heart attacks, several seizures and brain damage. Doctors told Claire and her husband, Mr. Gee, that there was nothing more they could do.
Prepared to let their little girl go, the couple started planning a funeral for their daughter and even had her baptized. But just 90 minutes before Alice was supposed to be removed from life support, a miracle happened.
"We were having a final cuddle with her before turning off the life-support machine when she suddenly woke up, started looking around and moving her arms and legs," Claire said. "Within 24 hours, she was off the life support, out of intensive care and breathing on her own. The doctors couldn't explain it. It was a miracle. She's a fighter."
That portion of the story, in and of itself, is a miracle. But Claire's medical defiance goes even further. Just seven weeks after the birth of Alice, while on the waiting list for sterilization, Claire became pregnant again. This time, she was pregnant with a little boy. He was born via emergency cesarean after another placental abruption just one month before little Alice started to make her miraculous progress.
Born 11 weeks early, Gareth weighed in at just a little more than 2 pounds. He spent the next eight weeks in a special care unit at Glan Clwyd, a full 230 miles away from the Birmingham Children's Hospital special care unit where Alice was being treated. Claire and her husband drove back and forth to see both of the children until Gareth was finally released in November.
Today, Gareth is just over four months old. He now weighs 7 pounds, 14 ounces. Alice, now 13 months, weighs 12 pounds, 14 ounces. While the stories of survival are amazing for both of these babies, there's still a lot of uncertainty about what Alice's life will look like in the future.
"The doctors don't know how much damage Alice has suffered. She is still fed through a tube in her stomach. She can't swallow or sit up. She is just like a newborn," Claire said, adding that "Gareth appears to be fine. He is just a bit small."
Yet despite Alice's current condition, Claire, who is again on the list to be sterilized, is hopeful that her two youngest children will be as close in their relationship as they are in their ages.
"It will be nice that they are so close when they are older," she said. "Hopefully they will be in the same class and Gareth will be able to look after his big sister."
Related Articles:
---
[ad]