New mom Nancy Grace showed off her 5 month old twins in a photo album posted online yesterday at CNN.com
John David(left) and Lucy were born at 32 weeks gestation in November. The babies were hospitalized for three weeks after their arrival but are doing well at home with their parents.
After they were released Nancy said on her CNN page,
Being in the hospital for those two weeks was really something, but leaving the twins behind when I was discharged was the worst. Then, after John David came home, I could hardly stand leaving little Lucy there alone each day.

I am the happiest person in the world now that we are all together again. They still quiet down when I sing to them, the same old songs. Today, I held them, alternating one then the other, for five straight hours! We spent the afternoon, them eating and sleeping, I just watched their faces.
John David weighed 5 pounds, 1 ounce at birth, while Lucy Elizabeth weighed 2 pounds, 15 ounces.  They look like they are definitely getting bigger!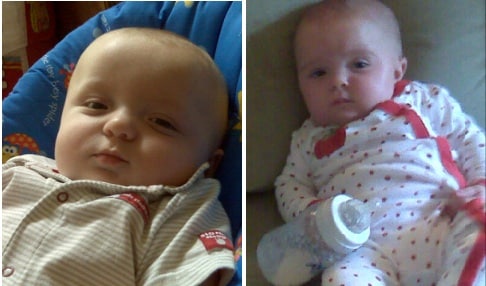 ---