British-Australian beauty Naomi Watts and partner Liev Schreiber braved the chilly weather and stepped out of their apartment for a stroll in the East Village to take their boys to school on Tuesday(December 4). Naomi ended up opting for warmer transport, hopping the train instead, while Liev rode his bike to accompany the kids to class.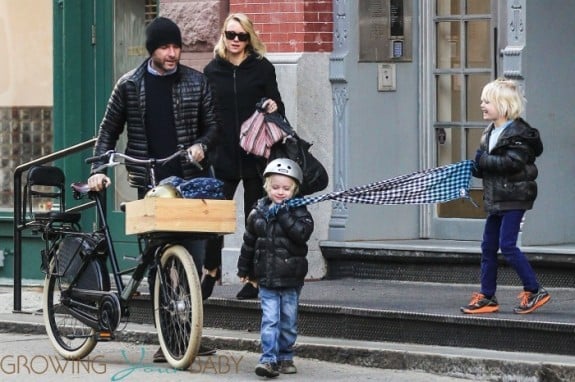 Naomi and Liev were dressed casually and comfortably, sporting a black hoody sweat suit and black hat and jacket, while the boys toyed with an Appaman Checkered Scarf. Both boys donned black Appaman jackets and were ready for the school day in sporty, relaxed jeans and sneakers. Liev enjoyed escorting the boys to school on his WorkCycles Fr8 bike.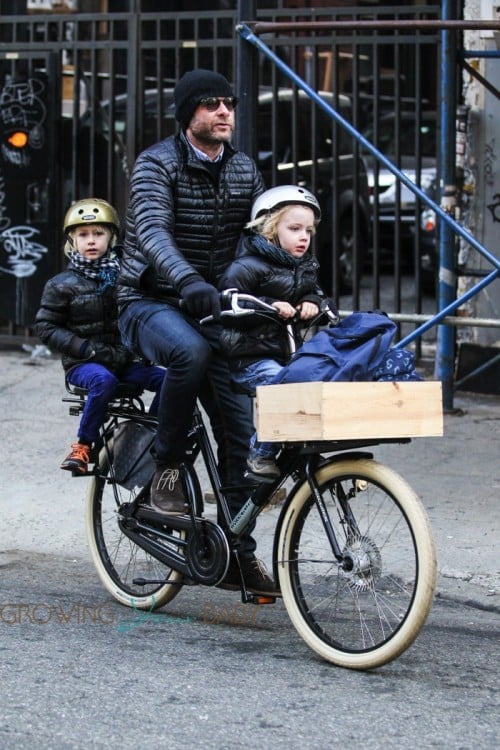 The bike has been dubbed his signature item, as it's been his transport of choice whenever he steps out with the kids, and it's no wonder why! The family-style bike is ideal for carrying kids and groceries, and is designed for heavy-duty purposes, such as carting around deliveries and getting the little ones from point A to point B.
Both Naomi and Liev have spoken out about doing their best to avoid working at the same time for the sake of the children and having quality family time, but lately they've been making their schedules work to manage both their film projects and responsibilities at home. Right now, Naomi is hard at work filming While We're Young, a comedic drama due out in 2015, which co-stars Ben Stiller and Amanda Seyfried, while Liev is keeping busy in Montreal, Canada with his new role in the biographical drama Pawn Sacrifice. Liev plays Boris Spassk, the Russian opponent to American chess champion, Bobby Fischer.
Back in January, Naomi talked juggling her traveling schedule and her time with the kids, saying, "I did a lot of traveling last year. It's been a big year and it's time for me to be home with the kids." Throughout 2013, both she and Liev have managed to pull off parenting and various film projects despite the challenges of traveling. While We're Young is currently being filmed in New York City, where the couple typically calls home, giving Naomi some time to indulge in both her role as mom and her new, exciting role in the upcoming film.
Judging by the photos, it seems the couple is certainly enjoying some quality family time as the holidays arrive and the year comes to an end.
{SPLASH, INFPHOTO.COM}
---