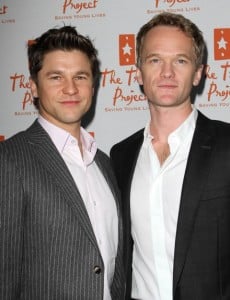 This Fall Neil Patrick Harris and his partner David Burtka welcomed twins. The fraternal twins, Gideon Scott, and Harper Grace were born to a surrogate on October 12, 2010.
Now, the new dads have opened up to People Magazine about the babies and how their arrival has changed their lives.

"Everyone says that it's such a blur after it happens", Neil told the magazine. "I find myself constantly just trying to wrap my mind around it."
For the first time, Neil has revealed how the babies were conceived.
"We inserted two eggs, one with my sperm, one with David's sperm and they both took," says Harris.
Holding their children in the delivery room shortly after their birth was "just absolute joy," says Burtka. "We had two babies that we made. With help."
David also shared a little bit of information about the personalities of the two babies.
"Harper has been fussy but Gideon is the easiest baby in the world. They're just now starting to recognize us and smile."
Neil first made the announcement about the pending arrival of the twins in August. He announced the news via his Twitter and returned to his Twitter to announce their birth.
The actor also stopped by The Talk at the end of November to talk about fatherhood.
At that time he told the ladies that he and David started with hopes of not swaddling the babies or pacifying them but they ended up in survival mode trying anything to get them to stop fussing.
Luckily for them, David has some experience with parenthood. In a previous relationship, he helped his at the time partner raise a set of twins that were also conceived by a surrogate.
The new family recently moved into a new kid-friendly home in the Hollywood Hills that includes a nursery for the babies that is decorated in old-school Disney theme park décor.
All they need to do now is show the babies off! Hopefully, we will get a peek of them soon.

Related Articles:
---