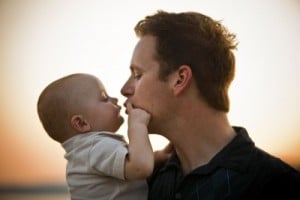 For new moms, there is a lot of pressure to drop the baby weight, not just for appearance purposes, but also for health reasons. Thankfully, there are tons of resources out there to help; almost every parenting site in existence has something to say about postnatal weight loss.
But it seems that new dads are at an even higher risk for weight problems and health complications that stem from that excess weight. Even worse, it seems that new dads are unaware of their weight problem, which only further compounds their health risks.
According to the study which was conducted in Australia, 72 percent of new fathers under the age of 40 are overweight or obese, and 79 percent of dads 40 or older are overweight or obese. Researchers also found that men were less realistic about their size; few of them even recognized that they were overweight.
"Women are much more realistic in terms of their weight," said Bupa chief medical officer Dr. Paul Bates. "The data showed seven in 10 men were actually overweight of those surveyed, but only three in 10 rate themselves as being overweight. With women, six in 10 were overweight, but five in 10 rated themselves as being overweight."
Societal norms may play a part in the misconceptions about weight. We often compare our own weight to those around us, and for those that live in countries where a high percentage of people are overweight or obese could be leading dads to think that their weight is still within normal range.
"Australia is unfortunately one of the more overweight countries in the world," Bates said.  "We measure by an absolute standard, the BMI (body mass index), but the way you judge yourself is how heavy you are compared to the people around you."
Health reasons aren't the only reasons that dads need to slim down though. Researchers pointed out that children with overweight parents often become overweight themselves.
"From a family point of view, if you are overweight, your kids' chance of being overweight is also much greater," said Bates. "Parents need to set a good example by exercising and eating well. Being overweight gives you a much greater risk of developing diabetes, high blood pressure and arthritis."
Of course, there are many obstacles and hurdles to weight loss after a baby – this includes both mothers and fathers. Schedules become hectic, it becomes easier to grab something quick rather than prepare something healthy and exhaustion can slow down metabolism. Not gaining weight can help, but once it's there, you have to be purposeful about losing the weight with both diet and exercise.
Joint efforts between mothers and fathers may help to drop baby pounds or keep them off if weight isn't an issue. Qew Druett and James Hector, parents of 14-month-old Olive made this work. Ms. Druett needed to lose some weight after their daughter. Her husband, James, didn't need to lose weight, but is supporting her by eating the same healthy meals. While she's had her struggles and obstacles, like all new parents, she's managed to lose 12kg – more than half of her goal.
"Since I had Olive, I needed to lose 20kg and I did 12kg," Ms. Druett said. "Then I didn't have much time to think about it, but Olive is now 14 months old and I have only just finished breastfeeding. You would rather sacrifice time to spend with your kids and family than exercise. Getting organized to do the right shopping to cook good meals is one of the hardest things."
Related Articles:
SOURCE
Image credit: keithbrofsky / 123RF Stock Photo
---