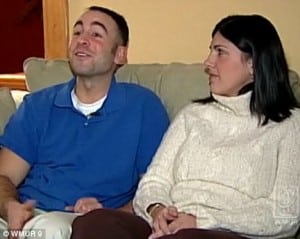 While driving his pregnant wife (who was in labor) to the hospital, John Coughlin had a run in with the law, which resulted in him receiving a speeding ticket for driving 102 mph in a 55 mph zone.
It was a twenty minute car ride from the Coughlin's house to the hospital. On their way Angela Coughlin told her husband that she needed to get to the hospital as soon as possible or their baby would be born in the back on their car.

John commented, "She started to have labor pains when we were driving to the hospital. They got intense".
As John drove faster he noticed that a state trooper had pulled in behind him with his lights and sirens flashing indicating to John to pull over to the side of the road. John having committed to reaching his destination on time, for his wives sake kept on driving.
John called 911 to explain to them his situation and that he was not trying to evade the state trooper. The dispatcher asked him if it was at all possible that he pull over, John told her no and then noticed that the state trooper had passed him and was now making a path for John to reach the hospital safely.
John, his wife Angela, and the state trooper all arrived at the hospital in time and little Kyle Coughlin was born with no complications. John was celebrating the arrival of his new born son when the state trooper approached him and congratulated him on becoming a new father than proceeded to hand the new dad with a speeding ticket and told him that he would see him in court the following Monday.
Senior officers confirmed Tuesday that the unnamed trooper was not required to issue a court summons but said that he correctly used his discretion to do so because Mr Coughlin was driving dangerously.

'By his own actions, he put himself, his wife, his unborn child and the motoring public in a very dangerous situation,' said Major Russell Conte of New Hampshire State Police.
Major Conte also noted that 'officers were sympathetic to people involved in medical emergencies but that 911 dispatchers were best placed to assist them quickly'.
The family is furious and still do not agree with the decision of the state trooper.

"There's no lesson to be learned because we'd do the exact same thing again.
– Jeff, Staff Writer

Related Articles:
---
[ad]