Most parents of children with disabilities are pretty reasonable. They know and understand that accommodations can be challenging, and quite often, they're willing to compromise. But at the end of the day, they still want their child to be respected and cared for, and to have as many opportunities as possible, especially if those opportunities are in the best interest of the child.
Denise Watts, mother of six-year-old Steven Heffron, is no different.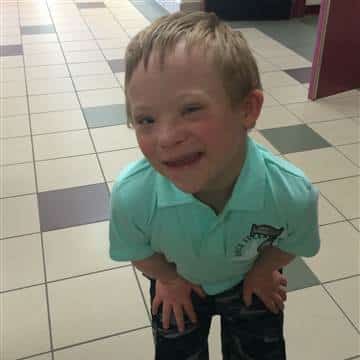 Denise says she's spent months asking her local YMCA if Steven, who has Down Syndrome, could attend their general summer program. His classmates are going there, and Denise says that Steven would do best there. So why is it that the YMCA has only offered Steven a spot in its camp for kids with disabilities?
"Each time they just say no, that it wasn't safe, the environment wasn't safe," Denise told NBC News about Steven's camp placement. "It's more like he's a liability, but that's not my fault."
Denise says she even tried to work with the YMCA, offering suggestions for how they could possibly work around any concerns they might have had over the safety of Steven or other children in the camp, such as bringing in another counselor to the group off campers he would be with. She even proposed that Steven only go half-days.
"I'm not asking for anything that's off the walls," she said. "But they're saying it would change the continuity of the program."
Denise sees it as discrimination, and a violation of the federal Americans with Disabilities Act and the federal Rehabilitation Act. Add in that she says the Great Miami Valley YMCA is using him "as a poster child for its programs with the tag lines 'Providing Opportunities for Everyone,' in promotional material, and it would seem that Denise has justification for bringing suit against the local organization.
Civil rights attorney Richard Ganulin, who is representing Denise in a lawsuit against the local YMCA told NBC News that "Steven shuts down when he's segregated with just children with disabilities . . . Some people with disabilities are very, very medically fragile and are very disabled, and Steven doesn't respond well when he's segregated with just individuals with disabilities."
Ganulin also says that, in addition to being excluded from the mainstream camp, the YMCA has refused to offer a before-school program to Steven, and they'll only allow him to attend an after-school program for a total of 15 minutes per day.
"The YMCA or any other program that is subject to these laws has to make reasonable modifications to accommodate Steven's needs to allow him to have equal access," Ganulin said. "There are behavioral experts who assess situations like this and they provide recommendations for how to accommodate the needs of someone with a disability. We asked the YMCA to do that here, but it refused."
In fact, Ganulin said that the organization's response to his request was that they didn't have sufficient staffing or training to ensure that Steven would be safe in the general summer program. And, again, they said Steven was welcome to attend Camp Campbell Gard. They also denied that Camp Campbell Gard is one just for children with disabilities. Instead, they said in a statement that only 20 percent of the children in that camp have developmental disabilities.
"These children simultaneously participate in the same activities and programs as children without developmental disabilities," the statement from the attorney representing the YMCA, Michael Hawkins, told NBC News.
But Denise, who said she will send Steven to Camp Campbell Gard just to keep him from having to spend the summer cooped up in their apartment, maintains that it is a program specifically for disabled children. And if that's the case, then the YMCA is in violation of the Americans Disability Act, Kevin Truitt, an attorney with non-profit Disability Rights Ohio, says.
"The child has a right to be in an integrated program," he told NBC News. "They can offer what are called segregated programs, which is just children with disabilities, but he has a right to be in an integrated program for children without disabilities. They have to accommodate his needs to ensure he has the same access to this program as any other child."
And since she feels they've failed to do that, Denise is suing the YMCA for accommodations as well as unspecified damages.
Related Articles:
---
[ad]