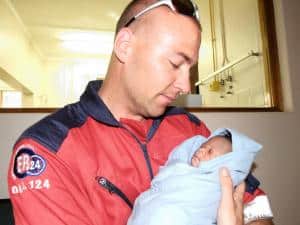 A two minute delay might have meant the difference between life and death for one newborn, but thankfully ER24 paramedics in South Africa's Pietermaritzburg city were right on time to save one abandoned baby's life.
It was around lunchtime when police and emergency services received a call from a doctor's clinic saying they heard sounds of splashing coming from under the closed toilet lid.
When paramedic Leo Fourie arrived with his team to the location, they lifted the lid and were horrified to find a newborn in the water with her head first.
"Your heart sinks, but with her head having been submerged in water, time was of the essence. Anything longer than the two minutes it took us to get there and it could have turned out tragically," said Fourie.
It is believed that the mother of the baby came to the doctor's surgery and asked to use the toilet. She later left leaving the baby behind.
Fourie immediately removed the baby from the bowl and rushed her to a waiting ambulance. The baby girl who had turned blue was taken to a local Hospital. She was struggling to breathe so they cleared her nose and mouth and wrapped her in a warm blanket.
Fourie and fellow paramedic Avi Singh recall this is the seventh baby they have found abandoned in the last four years. For Fouries the experience was shocking as he is himself father to a baby girl.
"It hits home, especially when you're a parent. I'm just grateful to go home to my daughter every day," he said.
Singh remembers the relief he felt when he heard the baby girl's "little squeaks" and see her open her eyes on the way to the hospital. According to the hospital she is now doing well and apart from being a little cold is healthy.
Police spokeswoman Joey Jeevan said a case of child abandonment had been opened, and the identity and whereabouts of the mother were unknown.
---
[ad]